Muhyiddin refused MoF move to pass vetting process to PMO for projects under post-pandemic scheme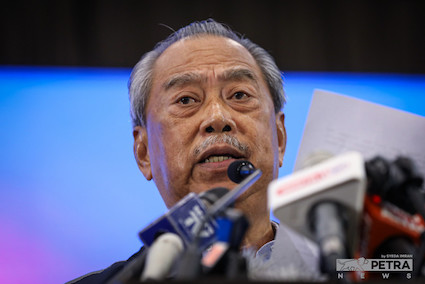 This comes as the former prime minister fights allegations that his party benefitted hundreds of millions paid by contractors who were given projects.
(Malaysia Now) – Former prime minister Muhyiddin Yassin rejected a suggestion that his office undertake the evaluation of companies vying for government contracts under a special fund focused on empowering high-performing Bumiputera contractors during the post-pandemic period, MalaysiaNow has learnt.
The Bersatu president was among those called in by the Malaysian Anti-Corruption Commission (MACC) in a probe of allegations that his party received millions of ringgit in political donations from contractors who were awarded projects during his time.
Among the claims made by ruling party leaders is that Bersatu received some RM300 million from a contractor in exchange for the award of contracts by Muhyiddin's administration, which governed during the peak of the Covid-19 pandemic before it was toppled due to the defections of MPs engineered by Umno president Ahmad Zahid Hamidi and former leader Najib Razak.
Muhyiddin, who is also the Perikatan Nasional (PN) chairman, has repeatedly denied the wrongdoings alleged by PKR and Umno leaders including Prime Minister Anwar Ibrahim, saying investigations will show that Bersatu's finances are in order.
He also warned of a "witch-hunt" to target opposition parties in order to deprive them of funds ahead of six state elections this year.
MalaysiaNow understands the investigation is centred on JanaWibawa, a programme approved by the Cabinet in November 2020, designed to empower Bumiputera companies rated from three to five stars which meet the standards of the Construction Industry Development Board apart from technical and financial capabilities.
Under JanaWibawa, approved as part of efforts to jumpstart the post-pandemic economy, contracts were awarded through direct negotiation or pre-qualification tender.
A main goal of JanaWibawa was to speed up the approval of projects to reverse the impact of the Covid-19 lockdowns on the building sector.
The task of evaluating companies eligible for projects under JabaWibawa was given to the finance ministry.
But a source said the finance ministry had wanted the Prime Minister's Office (PMO) to carry out the task of evaluating companies tendering for projects under JanaWibawa.
"This was rejected by Muhyiddin, who argued that the jurisdiction over the acquisition of projects falls under the MoF, not the prime minister," the source told MalaysiaNow, adding that the matter was relayed to then treasury secretary-general Asri Hamidon.