Umno Youth doesn't need Zahid puppet as chief, says FT man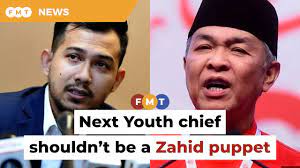 Umno Youth has no more room to "play it safe" and the wing cannot afford to have a puppet of party president Ahmad Zahid Hamidi as the new Youth leader, according to a divisional leader.
(FMT) – "It is not appropriate for the Umno Youth chief to parrot the party president," said Wan Agyl Wan Hassan, information chief of Federal Territories Umno Youth.
"The general election results in November showed that Umno Youth failed to attract the support of younger Malays, and one of the reasons is the unwillingness of the wing's leadership to speak frankly," he said.
He said there was no more room for anyone to "play it safe", and Umno Youth must dare to tell the truth to those in power and serve as a check and balance to the party's leadership.
He said Zahid's recent actions had sent the wrong signals to voters, and it was vital that Umno Youth be more discerning in selecting the next Youth chief.
BN won just 30 seats at the November general election, and failed to win a single parliamentary seat in Selangor, Melaka, Kelantan, Terengganu, Kedah, Penang and Perlis.
Wan Agyl said Malay voters had rejected Umno at the general election in November and now have alternative platforms, while younger Malays were increasingly sceptical about the party's ability to fight for them.
"This party is in terrible shape. With just 26 MPs, we should recognise that it is only a matter of time before Umno is fully wiped out. Umno Youth will soon inherit a wounded party, and before it is too late, we must separate ourselves from the central leadership and act as a check and balance."
Umno's elections are being conducted in stages from this month and will conclude on March 18.
He said the barring of contests for the top two posts and suspensions of some party leaders without valid reasons, and the manner in which these were done, had also cast a spotlight on Zahid's leadership.
"With the party's top two positions uncontested, Umno Youth needs a leader who can represent the youth both inside and outside the party," he told FMT in commenting on the coming party elections.
Last month, Umno suspended a number of leaders for six years for breaching party discipline during GE15 including former Umno vice-president Hishammuddin Hussein and former Umno information chief Shahril Hamdan.