KJ hints at 'political restart' of career in Selangor govt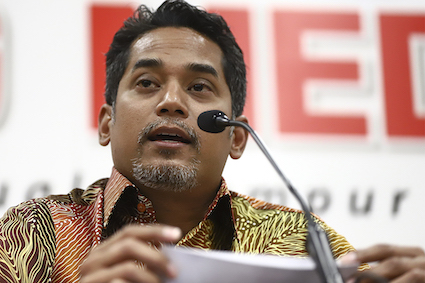 (NST) – Khairy Jamaluddin, who was unceremoniously sacked by Umno 10 days ago, today admitted that he has engaged with "several parties" on a possible role in the Selangor government, including as menteri besar.
The former Umno Youth chief said he was interested in "restarting a political career" in Selangor and might contest in the upcoming state elections.
Khairy offered no denial when asked if he had been offered a candidacy as Selangor's menteri besar.
"There is one immediate event on the horizon that interests me, which is the upcoming state elections, and Selangor's in particular.
"There have been discussions with several parties and there are also discussions taking place about what role (in the Selangor government) that could be," he said in a Concorde Club meeting here today.
The Concorde Club meeting is a monthly informal gathering of senior news editors who meet with political leaders and key policy makers.
Khairy, who was also a former health minister, said he felt it was a good opportunity to take up a leadership role in the state government, but said he would have to consider if he had the appetite to jump back into politics immediately.
"I've had three terms in Parliament, and I've led three different ministries.
"I think having state-level experience will be a nice complement to the existing skill sets that I have.
"It would help me better understand local governments, and the relationship between the state and federal governments from the other side."
He remained careful about his chances if he decided to make a political comeback, adding that any state seat in Selangor would be hotly contested.
Noting that Selangor was a Pakatan Harapan (PH) stronghold, Khairy, however said it would be an uphill battle whichever way he decided to go.
"Selangor is a strong PH state. But if you look at the last parliamentary results, Perikatan Nasional has made serious inroads in Selangor.
"So it could go either way. Whichever way I choose will be a tough fight.
"Nothing is a done deal in politics. If you fight and prevail you have the opportunity to participate in the state government, but if you don't then that's the price to pay," he added.
Prior to becoming health minister, Khairy was also science, technology and innovation minister, and also youth and sports minister.
Having held the Rembau parliamentary seat for three terms, Khairy was moved to the Sungai Buloh seat in the 15th General Election to make way for Umno deputy president Datuk Seri Mohamad Hasan.
Khairy lost in the seven-cornered fight in Sungai Buloh after a keenly contested battled which saw Pakatan Harapan's R. Ramanan edging past the finishing line in a neck-to-neck battle.
Khairy managed to poll 48,250 votes compared to Ramanan's 50,943.