Ismail Sabri yet to decide if he should defend Umno VP post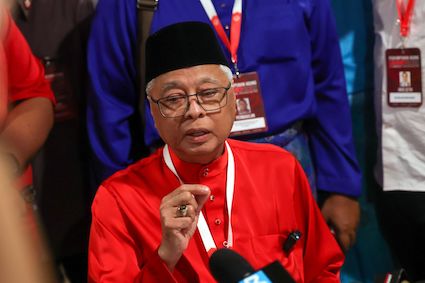 (The Star) – Umno vice-president Datuk Seri Ismail Sabri Yaakob says he is undecided if he will contest in the upcoming Umno elections set for later this month.
However, The Bera MP said that he would likely contest for a state position.
"That is my decision so far. The national level has not yet been decided," he said, adding that he would likely no longer involve himself in party-related matters if he decides to not defend his position," he told Malay news portal Majoriti.
Meanwhile, the other two Umno vice-presidents – Datuk Seri Mohamed Khaled Nordin and Datuk Seri Mahdzir Khalid – are likely to defend their positions.
Kota Tinggi MP Mohamed Khaled is also Higher Education Minister, while former rural development minister Mahdzir failed to defend his Padang Terap parliamentary seat in the 15th General Election.
On Tengku Datuk Seri Zafrul Tengku Abdul Aziz's desire to contest for an Umno supreme council position, Ismail Sabri said that he has the qualifications to run for the highly coveted position.
He cited Tengku Zafrul's educational background and his previous experience as finance minister and bank officer.
Umno elections began last week with branch-level conferences expected to take place from Feb 1 to Feb 26 involving 22,000 branches and 191 divisions across the country.
The Umno division- and supreme council-level elections will take place starting March 18.