No Shadow Cabinet, Perikatan forms 26 portfolio committees to monitor ministries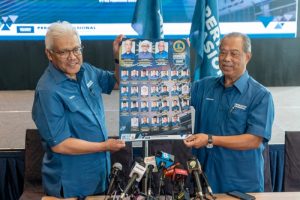 Perikatan Nasional (PN) has set up 26 portfolio committees to keep an eye on federal ministries in Parliament.
(MMO) – Its chairman Tan Sri Muhyiddin Yassin said the 26-MP committees will be led by Opposition Leader Datuk Seri Hamzah Zainuddin.
At a news conference in Kampung Baru here today where PN had just held its retreat, Muhyiddin unfurled a poster showing the 26 MPs and the portfolios they were in charge of monitoring.
Among them are: Putrajaya MP Datuk Mohd Radzi Jidin to monitor the Finance and Economic Affairs Ministries; Kota Baru MP Datuk Takiyuddin Hassan (Home Ministry); and Arau MP Datuk Seri Shahidan Kassim (Rural Development and Territory Ministry).
Muhyiddin said the 26 MPs chosen for the respective portfolios had the necessary skills and experienced required, and would ensure that PN can become an effective Opposition in Parliament.
The former prime minister also said PN will continue to push its "Wawasan Kemakmuran Bersama" (Shared Prosperity Vision) agenda that he had come up with when he led the government in March 2020.
He said the core vision of the shared prosperity agenda went beyond the issue of race and religion and looked at the distribution of the nation's wealth.
"Today we return home to the policy and core of the country's development in the future," he said.