Will Azmin reclaim Selangor MB position if PN wins state election?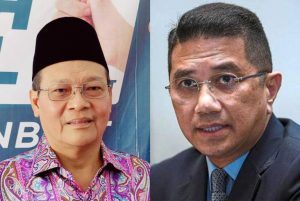 Perikatan Nasional (PN) is not ruling out the possibility of nominating former Selangor Menteri Besar Datuk Seri Mohamed Azmin Ali to lead the state government again if they succeed in winning the Selangor state election.
(Sinar Daily) – Selangor PN Election Machinery Deputy Director Datuk Dr Zulkafperi Hanapi said the opportunities were always open for the former Selangor Menteri Besar to return.
However, he said all possibilities would be up to the PN leadership to determine the best candidate for the state's top position.
"The opportunities are always open for him (Azmin) and if he succeeds in winning at the state assembly level and brings us towards victory in Selangor, InsyaAllah, with his experience of developing the state, it could be in that direction," he told Sinar on Wednesday.
Zulkafperi admitted Azmin faced a difficult task to defend the Bukit Antarabangsa state seat he won in the 14th General Election (GE14).
"The competition (Bukit Antarabangsa) state assembly is expected to be fierce as less than 50 per cent of Malay voters will certainly be difficult, but his influence could attract voters.
"We are not ruling out the possibilities on whether Azmin would remain at Bukit Antarabangsa or choose a different state seat that may side with PN's victory," he said.
Zulkafperi said PN's current preparations were at their best and they are confident in obtaining at least 33 state assembly seats to form the state government.