Observers warn of prelude to more Nurul Izzah-like appointments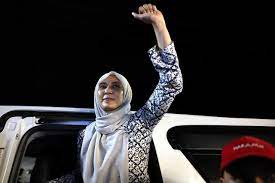 "Rosmah Mansor worked pro bono too, but she was also given a lot of perks like her own office and car"
(MalaysiaNow) – Concerns have been raised that the appointment of family members to government positions could be a slippery slope to more, as debate continues over the move to name Anwar Ibrahim's daughter as his senior economic and financial adviser.
James Chin of Australia's University of Tasmania said the appointment of family members to such posts was nothing new in Malaysia.
Speaking to MalaysiaNow, he said it had in fact been a reality since the country achieved independence more than six decades ago.
"This has gone on for a very long time, on both the government and opposition sides," he said.
"In fact, as far back as the 1950s, in the form of the federation, we already had this problem.
"We all know the political dynasty of Tun Razak, and of course Anwar's link family. So there's plenty to go around."
Chin said the issue of concern was that the "children of nepotism" would be appointed as menteris besar or to key government positions.
Anwar's daughter, Nurul Izzah Anwar, was appointed as his senior economic and financial adviser effective Jan 3.
The move was criticised by those who cited the practice of nepotism, and who questioned Nurul's qualifications for the position.
Nurul graduated in 2003 in engineering from Universiti Tenaga Nasional before furthering her studies in public policy in the US.
Anwar however defended her appointment, saying even he was appointed as finance minister despite not having a related educational background.
"Even I don't have a finance-related degree or certificate, but I was the minister of finance for eight years (in the 1990s)," he said.
Anwar's family has long been accused of nepotism with both Nurul and her mother, Dr Wan Azizah Wan Ismail, holding top positions in their party PKR.
Chin said this was a common feature in Asia, particularly Southeast Asia and the India subcontinent.
"They have many political families, and they appoint their children or relatives to influential positions," he said.