Gerakan now wants Hisham, KJ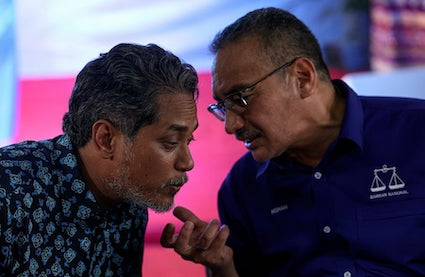 (NST) – After Pas, Gerakan is now inviting Umno leaders, who were either sacked or suspended from their party, to join the multi-racial party.
Datuk Baljit Singh said, as the Gerakan national vice-president, he was extending a welcoming hand to all those who had been sacked or suspended, including Datuk Seri Hishammuddin Hussein and Khairy Jamaluddin, to join Gerakan.
"Gerakan is a multi-racial party and fights for the constitution of Malaysia for every Malaysian.
"So, in the modern Malaysia arena, I think Khairy and Hishammuddin can continue to contribute to the development of Malaysia, and they should consider joining Gerakan.
"Gerakan will welcome them with open hearts for the betterment of Malaysia," he told the New Straits Times today.
Baljit said that those sacked or suspended by Umno should consider Gerakan's offer.
"I sincerely hope they will step forward to help all Malaysians and join Gerakan," he added.
Umno last night confirmed that Khairy and Tan Sri Noh Omar had been sacked from the party.
The party had also suspended Sembrong member of parliament Datuk Seri Hishamuddin Hussein, former Umno information chief Shahril Sufian Hamdan, Tebrau Umno division chief Datuk Maulizan Bujang and Jempol Umno division chief Datuk Seri Mohd Salim Shariff from the party for six years.
The party also decided to sack 26 party members from Pahang Umno, Putrajaya Umno division (nine), Pasir Gudang Umno division (five) and two party members from the Tanjong Karang Umno division.