Can Mat Sabu tackle Malaysia's food shortages?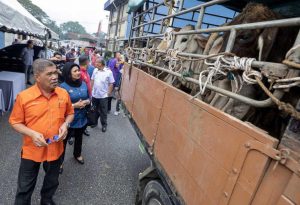 Experts give their opinions following a Cabinet review giving Mohamad Sabu the worst score of all.
(MalaysiaNow) – Analysts have expressed differing opinions about the performance of Amanah chief Mohamad Sabu since taking over the agriculture and food security portfolio in the Cabinet of Prime Minister Anwar Ibrahim about a month and a half ago.
Mohamad, popularly known as Mat Sabu, received the lowest marks in a recent Cabinet review, giving rise to questions over his ability to tackle food-related issues in the country.
He was criticised on social media over problems in the supply of chicken and eggs, which in turn caused a jump in prices.
Mohamad himself defended his score, describing it as a continuation of the previous government's performance.
Adilah Zafirah, an economist from think tank Iris Institute, said the score showed a lack of seriousness about solving the problem at hand.
"There is a lack of political will," he told MalaysiaNow on the problems in egg supply.
"The people, meanwhile, are hard pressed as the problem has continued for months."
Adilah said the minister in charge should be academically qualified for the task, with the necessary experience in addition to experience on the ground.