Fading hopes after the bright promise of a new year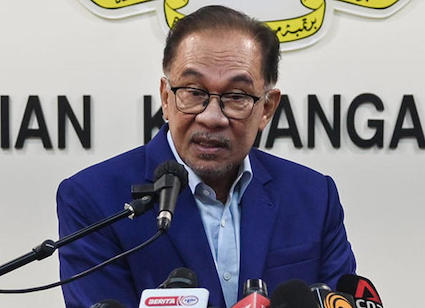 Yeoh Guan Jin, Free Malaysia Today
A new year is always something to look forward to. It's supposed to come with a promise, or so we thought.
Sadly, Malaysians are no longer as hopeful as they were when they ushered in the lunar Year of the Tiger in early 2022.
A recent survey by market research firm Ipsos shows that 68% of those who were asked if they thought 2023 would be a better year answered in the affirmative.
However, this was a drop of 14% compared with the previous year.
The less upbeat mood is not confined to Malaysia. It is reflected across the globe, as the survey shows. A total of 65% of respondents around the world remain optimistic. Nonetheless, this is a 12% drop from last year.
The reduced optimism is to be expected. Between disasters brought by climate change and destruction wreaked by wars, it is difficult to harbour high hopes for better things ahead.
For Malaysia, 2022 began with lower daily numbers of new Covid-19 cases. Soon, the government felt confident enough to ease the restrictions on travel and most other activities.
Businesses reopened, people went back to work and the traffic snarls returned to the city.
However, the hope for economic recovery did not quite pan out. As we ushered in 2023, more Malaysians began to fret about rising prices, shortages and depleted savings.
A total of 87% of Malaysians now worry that prices will rise faster than incomes, up 4% from last year, the Ipsos survey shows. This was more than the global average of 79%, which was also up 4% from the previous 12 months.
Confidence in the stock market dropped considerably, too. A total of 71% of Malaysians believe the stock market will crash this year, an increase of 15% over last year.
Sentiments on inflation, employment and interest rates are also highly negative. A total of 81% of Malaysians believe inflation will rise, 78% expect interest rates to go up and an equal number are bracing for higher unemployment.
These are numbers that the unity government of Anwar Ibrahim will have to look at seriously.
As it is, one cannot really blame the people for feeling so let down. The 15th general election last November left Malaysia with a hung Parliament, a sure sign of instability.
It took some serious horse-trading and a piece of advice from the Yang di-Pertuan Agong before Umno and parties in Sabah and Sarawak agreed to team up with Anwar's Pakatan Harapan to form a unity government, and for Anwar to be appointed prime minister, five days later.
But Anwar's position is not nearly as solid as he had hoped for. Umno's internal strife has become a cause for worry. A change in the top leadership could mean Umno's exit from the unity government, which would lead to its collapse.
But a no-contest motion that was carried at the party's general assembly on Jan 13 will see Ahmad Zahid Hamidi and Mohamad Hasan stay on as president and deputy president. This has given Anwar a respite. How long that will last is anyone's guess.
To keep his government intact, Anwar has been handing out goodies to Sabah and Sarawak in the hope that Gabungan Parti Sarawak, Gabungan Rakyat Sabah and the smaller parties will keep him in office.
But in the process, Anwar has lost track of what must be done to lift the country out of its economic troubles. Two months after being appointed prime minister, he has yet to come up with anything substantial to ease the people's financial troubles and to put economic growth back on track again.
Time is running out.