No contests for top two posts may backfire: Johor Umno leaders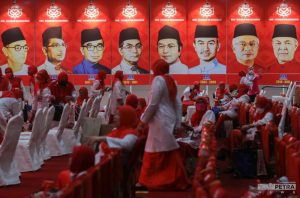 Party risks being seen as brazen if challenges barred, says state committee working secretary
(The Vibes) – While there are merits behind the suggestion for Umno's two top positions – the president and deputy president post – to not be contested in the upcoming party polls, the question remains whether the benefits outweigh its downsides.
Johor Umno committee working secretary Datuk Pandak Ahmad opined that the party risked being seen as brazen should it decide to bar the top two posts from being challenged.
He said that there was a split in opinion on the issue within the party's chapter in the southern state, which is also the birthplace of Umno.
But if you asked me, I would say let the top posts be contested so that democracy can run its course. Let the grassroots have their say.
"Even if the president and deputy president posts were not contested, there would still be a split (of support for leaders) since the vice-president posts are still up for grabs.
"Better let the delegates decide whether they want to see a contest for the top two posts in Umno," the Kota Iskandar assemblyman told The Vibes when contacted.
"The party can regroup after the internal polls are finalised. We need to be transparent. Let the voice of the many shape the party," he added.
Sharing the same sentiment, Muar Umno deputy chief Datuk Ashari Md Sarip said there were pros and cons to not allowing the top two posts in Umno to be contested.
While Umno's top leaders might view the move as a strategic decision to expedite the party's recovery, Ashari said the same rationale does not apply to normal Umno members.
"If we wanted to ensure no more splits in the party, since we're still going to face five state elections soon, it might be best that the posts are not contested.
"However, normal party members will view this move negatively as they prefer that all party posts be open for contests for a new leadership line-up to be formed, with a fresh mandate from grassroots members.