Mat Zain: Form RCI to probe Batu Puteh loss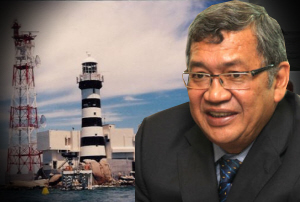 Mat Zain insists that his statutory declaration is more than sufficient to initiate investigations under prevailing laws.
(FMT) – Retired Kuala Lumpur CID chief, Mat Zain Ibrahim today pressured the government to initiate a Royal Commission of Inquiry (RCI) to investigate the loss of Pulau Batu Puteh to Singapore and also urged the Inspector General of Police Khalid Abu Bakar to probe the matter thoroughly.
The former top cop also responded to calls made by the Home Minister Ahmad Zahid Hamidi and Perkasa President Ibrahim Ali for him to lodge a police report in order for the police to start investigating; by explaining that the IGP had the power under Section 107 (3) (a) (b) & (c) of the Crime Procedure Act to accept his earlier statutory declaration (SD) as a police report.
"On Oct 10 2013, I have forwarded my SD to the IGP, Chief Secretary to the Government and to the Attorney General," he said in a statement today.
"I have also urged IGP Khalid Abu Bakar to accept my SD as a police report as stated under the Crime Procedure Act. He has the powers to do so," he added.
"Based on past experience, the Prime Minister had advised the Yang Dipertuan Agong to establish an independent tribunal in accordance to the Federal Constitution as in the case of former Chief of Justice Salleh Abbas in 1988.
"As well as the cabinet's decision to set up a RCI under the Commission of Inquiry Act 1950 that did not depend on any police report," Mat Zain said.
Mat Zain who recently sued the police and the government over alleged abuse of power, then referred to several articles published in newspapers and blogs where he deemed to be mischievous.
To clear the air, he added that he has already sent out emails to various news portals and several assemblymen in order to avoid any misconception and doubt among the public, especially in his claims of alleged misconduct in the part of Attorney General Abdul Gani Patail in the Pulau Batu Puteh case at the International Court of Justice.
"There have been numerous reports carrying my SD which I made on Oct 7. I find the reports very misleading.
"There is even one report specifically describing that my SD was a conspiracy to bring down the AG," he said.