Dr Mahathir denies threatening Zahid to dissolve Umno with corruption charges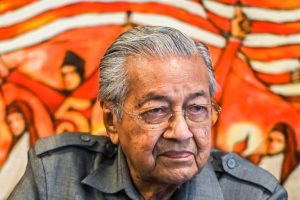 "I told him that Umno could not be revived. I advised him to dissolve Umno. Up to that point, Zahid's allegation was correct. However, I did not threaten to charge him for his misappropriation of funds from Yayasan Akalbudi."
(MMO) – Former prime minister Tun Dr Mahathir Mohamad has denied allegations that had threatened Umno President Datuk Seri Ahmad Zahid Hamidi with criminal charges should he fail to dissolve the party.
In a statement on his social media accounts yesterday, Dr Mahathir claimed that he had only advised Zahid to dissolve Umno and expressed his willingness to be called as a witness in his trial, emphasising that he had never issued any threats on the matter.
"During Zahid's trial, he alleged that I threatened him with criminal charges unless he dissolved Umno. I did not comment as I thought I should not comment on the trial unless I was called to bear witness.
"But I was not called. Instead, the attorney-general decided to offer him a discharge not amounting to an acquittal, which meant the court was not allowed to decide on his allegation. But actually, the allegation was not completely true," he wrote.
Dr Mahathir, who was prime minister from 1981 to 2003 and again from 2018 to 2020, also clarified the sequence of events, recounting that Zahid had approached him after Umno's loss in the 14th general election in 2018 and at that time, several Umno members, including Hamzah Zainudin, had resigned from the party to join Bersatu.
"I told him that Umno could not be revived. I advised him to dissolve Umno. Up to that point, Zahid's allegation was correct. However, I did not threaten to charge him for his misappropriation of funds from Yayasan Akalbudi.
"I did not simply because I did not know much about his misdeeds. That was something that the then attorney-general would be looking into," he said, referring to Tan Sri Tommy Thomas.
Dr Mahathir also said that Zahid then came again with a thick file to prove his innocence, however, the former Langkawi MP asked Zahid to show the file to the judge because he did not have the authority to do anything.
"I believe the attorney-general preferred charges against him, and he had to answer in court. The attorney-general has the right to charge anyone if he is convinced that there was a case. The PM's opinion is not required.
"I wish I had been called as a witness to verify whether the allegation made by Zahid was true or not, but I was not called. Still, I need to clarify that at no time did I threaten Zahid," he said.
In August last year, Zahid claimed that the criminal charges brought against him were the result of threats made by Dr Mahathir to disband Umno.
On September 4, Zahid who is also the Barisan Nasional chairman was granted a discharge without acquittal (DNAA) by the High Court in Kuala Lumpur from 47 charges involving the Yayasan Akalbudi after the Attorney General's Chambers made the application to the court.