World record, Mahathir says on Zahid discharge despite prima facie case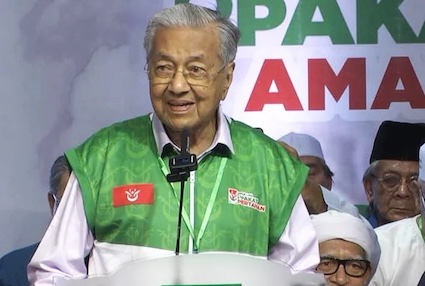 (Malaysia Now) – Dr Mahathir Mohamad today continued his censure of the move to free Deputy Prime Minister Ahmad Zahid Hamidi from a string of corruption charges despite the proving of a prima facie case against him, hailing it as "a world record" for the Malaysian judiciary.
In a statement, the former leader said it was for judges to determine whether a person accused of a crime was guilty or not, based on the evidence at hand.
"In a recent case, the attorney-general decided not only not to send the case to the court but he actually proved that there is prima facie evidence that there is a case for the defendant to answer. And the judge agreed," he said.
"Then suddenly, the attorney-general decided not to continue with the case. The judge has no choice but to discharge the accused. However, the judge decided not to acquit the accused. So the decision by the judge is discharge without acquittal.
"This means that the accused may be guilty. But he is free. This is unique. Perhaps there has been no such case anywhere in the world. The Malaysian judiciary has established a world record.
"Malaysians should be proud. Or should they?"
Mahathir had penned a similar statement laced with his trademark sarcasm following the decision by the Attorney-General's Chambers (AGC) to discontinue the case against Zahid.
"Bravo Malaysia. Your judiciary is the best in the world," he said on Sept 5.
Zahid, the Umno president and Barisan Nasional chairman, had faced 12 counts of criminal breach of trust, eight of corruption, and 27 of money laundering involving tens of millions of ringgit belonging to the charity foundation.
He was given a discharge not amounting to an acquittal or DNAA on Sept 4 after deputy public prosecutor Mohd Dusuki Mokhtar informed the judge of the AGC's request.
Zahid was instrumental in giving Prime Minister Anwar Ibrahim the numbers needed to form the government after the inconclusive results of the general election last year.