Kit Siang attacks Dr Mahathir for his association with PAS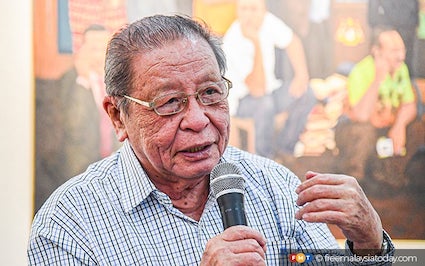 (The Leaders Online) – Veteran DAP politician Tan Sri Lim Kit Siang today said Tun Dr Mahathir Mohamad is eating his own words following the former prime minister's appointment as the unofficial advisor to the cooperation group of four PAS-held states.
In a statement, Lim quoted a passage from Dr Mahathir's book Capturing Hope – The Struggle Continues for a New Malaysia in which the latter attributed division among Malay Muslims to PAS' formation.
"Now, Dr Mahathir is eating his own words by becoming unofficial adviser to the four PAS states although PAS, under Hadi, is trying to do on the Malaysian scale what he had done previously, condemning DAP as anti-Malay, anti-Islam, anti-royalty, communist, spreading Islamophobia, without any iota of evidence or proof whatsoever," Lim said referring to PAS president Tan Sri Abdul Hadi Awang.
Lim added that Hadi's speech in Parliament during the 12th Malaysia Plan (12MP) Mid-Term Review (MTR) provided a lesson that the latter had no qualms about spreading lies about both contemporary and historical events.
Terengganu Menteri Besar Datuk Seri Ahmad Samsuri Mokhtar's announcement of Dr Mahathir as the unofficial advisor to the official cooperation between Perlis, Kedah, Kelantan and Terengganu had reminded Lim of what Dr Mahathir had written, the retired DAP leader said.
"There was no such division among Malay Muslims in Malaya until PAS was formed.
"Immediately, PAS declared that those who did not join it were infidels (kafir)," Lim quoted Dr Mahathir.
He also claimed that Dr Mahathir wrote about Abdul Hadi being the "most potent cause of the split among Malay Sunnis".
Dr Mahathir said that Abdul Hadi's condemnation of Umno as kafir led to PAS members rejecting Umno imans during prayers, Lim claimed.
Besides that, Lim commented that yesterday's rally backed by the Opposition coalition Perikatan Nasional (PN) had a turnout that was "too small".
"I commend the police for facilitating the PN rally in Kuala Lumpur yesterday, although the chief organiser of the rally stayed away from it because its turnout was too small," he said.
Yesterday, several hundred people gathered at the Kampung Baru Jamek Mosque to protest what they claimed to be political tampering in the corruption trial of Deputy Prime Minister Datuk Seri Ahmad Zahid Hamidi.
On Friday, Ahmad Samsuri announced that Dr Mahathir was chosen to be the unofficial adviser to the four states under PN's control.