We never withdrew case against Ahmad Zahid, says AG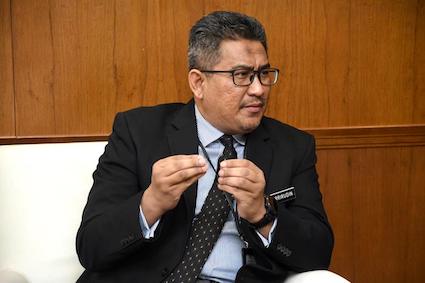 (The Star) – The case against Deputy Prime Minister Datuk Seri Dr Ahmad Zahid Hamidi was never withdrawn by the Attorney General's Chambers (AGC), says Attorney General Datuk Ahmad Terrirudin Mohd Salleh.
According to Ahmad Terrirudin, the AG merely exercised his prerogative under the Federal Constitution to halt proceedings against Ahmad Zahid.
"The AGC never used the word 'withdraw' in the case involving Ahmad Zahid as mentioned by the Bar Council's statement.
"The statement (by the Bar Council) referred to Article 145(3) of the Constitution that clearly gives full prerogative to the AG to, among others, halt proceedings of any charges," said Ahmad Terrirudin in a statement yesterday.
On Sept 7, Bar Council president Karen Cheah criticised the DNAA granted to Ahmad Zahid, saying the AGC's explanation on the matter was "devoid of proper justifications".
Cheah also said it "rings hollow for the AGC to wholly attribute the withdrawal of the case to the High Court and use that reason in a media statement, instead of providing a detailed explanation".
Ahmad Terrirudin said that subsection 254(1) of the Criminal Procedure Code states that the prosecutor, in any stage of the trial, may inform the courts that charges will not proceed.
"The AG can stop charges at any stage while the judgment hasn't been meted out and this includes the stage after prima facie was proven.
"It is also important to note that this isn't the first time where charges were halted after a prima facie case was proven," said Ahmad Terrirudin.
He also said the AGC is in the best position to decide on whether charges should continue, as it will be based on a variety of factors, such as investigative reports and representations, among others.
Ahmad Terrirudin said it is the job of the AG to consider every argument given by the accused and it will not rush into rejecting representations by anyone.
"The AGC's duty isn't to ensure any of the accused were convicted at all costs.
"Instead, it is the AGC's duty to ensure that the law is upheld based on the Blackstone Ratio, 'it is better that 10 guilty persons escape than that one innocent suffers'," said Ahmad Terrirudin.
He said the AGC requires time to scrutinise new documents and representation before making any new decision.
"The AGC hopes that everyone will stop speculating as the department and investigative parties are still investigating new evidence on this case.
"The AGC will decide after detailed and comprehensive investigations are completed," said Ahmad Terrirudin.
On Monday, the High Court granted a DNAA to Ahmad Zahid for all 47 graft charges involving Yayasan Akalbudi funds.