"Breaching RM100K election expense limit is an offence; even PM's chopper ride is an incurred expenditure"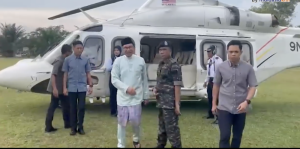 HUMAN rights advocate-cum-lawyer Charles Hector has urged electorate in the six states that held their elections recently to check the election expenses of all candidates and to highlight any lies with regard to the RM100,000 election expense limit.
(Focus Malaysia) – Stressing that this is vital to ensure a free and fair election, he told the electorate to watch out for the notice by their respective state elections officer of the date and place during which the return accounts and statements from all candidates who contested in the state polls will be made available for inspections by anyone.
"This will also list campaign activities of third parties like our PM (Prime Minister) … did they have the required written authorisation and how much was spent for that activity," Hector penned in his latest blog.
"How much did (Datuk Seri) Anwar Ibrahim or his party spent when he campaigned in a particular constituency for a particular candidate? The cost of government helicopter, the cost of the venue and other resources?
"All monies spent on the campaign is expenditure of the candidate … Anyone who campaigned or spent on something without the authorisation of the candidate or his/her agent commits an offence."
Drawing an illustration, Hector said the use of helicopter which sparked a controversy when Anwar campaigned in the state constituencies of Jeneri (the stronghold of Kedah Menteri Besar Datuk Seri Muhammad Sanusi Md Nor) and Kupang in Sik required written authorisation of the candidate's election agent.
"Now, if Anwar did receive the written authorisation, then within 14 days of the election result, he must submit to the candidate's election agent how much monies was spent. The incurred expenditure will be included and considered the candidate's election expenditure for his/her campaign," explained Hector.