"UMNO created a monster in DAP and now expects its members to embrace the devil"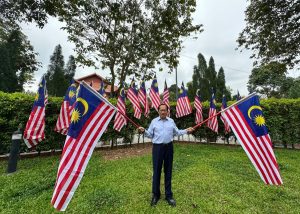 IT IS befuddling to read UMNO supreme council member Datuk Seri Ahmad Maslan's (main pic) statement that Barisan Nasional (BN) will explain to the voters of the Pulai parliamentary and Simpang Jeram state seats its reason for joining the "unity government" – it reeks of hypocrisy!
P. Ramakrishnan, Focus Malaysia
Wasn't this explained way back in November 2022, when UMNO decided to throw its support to form the unity government? There must have been some compelling reasons for it to throw in its lot with Datuk Seri Anwar Ibrahim and to be part of the unity government.
Without UMNO coming on board, the unity government would not have come into existence. Realising this, UMNO extracted the maximum benefit for supporting Anwar – and succeeded beyond its wildest dreams!
UMNO has been with the unity government for almost nine months with its president as the Deputy Prime Minister of Malaysia and its various party leaders holding Cabinet positions. They were then in a position to reward others as heads of government-linked companies (GLCs).
All this while, it seems, there was no need to explain its decision to be part of the unity government which included DAP. There was no reason to justify itself for working with DAP in the unity government then. No one raised the UMNO general assembly's "No Anwar, no DAP" decision then. When the going was good, it was all right to work with the DAP!
One immediate benefit in joining the unity government was that UMNO did not disappear into thin air after its disastrous performance in the 2022 general election.
Together with its partners in Barisan Nasional (BN), the coalition secured only 30 seats in Parliament. From a monolithic party, BN was reduced to an insignificant entity in national politics. And yet, it got a lion's share of benefits despite its weak standing!
To remain significant and relevant, BN seized the opportunity to be part of the unity government. Its claim that it did so in deference to the Yang di-Pertuan Agong's decree for a unity government can only be taken with a pinch of salt!
Despite the royal decree, didn't Bersatu and PAS – part of the Perikatan Nasional (PN) coalition – refuse to be bound by it without any consequences?