Zeti: Task force wasn't to topple PM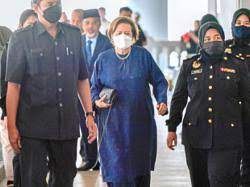 The establishment of the 1MDB special task force in 2015 was to investigate issues in the sovereign wealth fund and not to topple the then sitting prime minister, says the Bank Negara governor at the time.
(The Star) – Tan Sri Dr Zeti Akhtar Aziz testified that the ultimate aim of the investigation was to determine any wrongdoings in the company and to recover its monies.
She denied the investigation was to find a way to charge Datuk Seri Najib Razak, who was the prime minister then.
The Special Task Force was set up on March 6, 2015, to investigate 1Malaysia Development Bhd.
Key figures in the task force were former attorney general Tan Sri Abdul Gani Patail, former inspector-general of police Tan Sri Khalid Abu Bakar, former Malaysian Anti-Corruption Commission (MACC) chief commissioner Tan Sri Abu Kassim Mohamed and Zeti herself.
"At that time, the investigation was on 1MDB and not on the PM (Najib). We only found out later that there was a connection," said Zeti, who was being cross-examined by Najib's lead counsel Tan Sri Muhammad Shafee Abdullah at the RM2.28bil 1MDB trial here yesterday.
Zeti, who is the 46th prosecution witness, said she had no knowledge whether Najib was being secretly investigated by the MACC.