Will Halim Saad's untimely legal suit be a morale dampener to Tun M in light of Aug 12's state polls?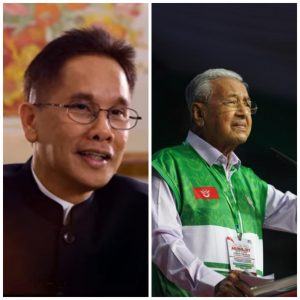 TWICE former premier Tun Dr Mahathir Mohamad probably had a taste of his own medicine after he was served with a suit by tycoon Tan Sri Halim Saad who is claiming compensation for the losses suffered from the acquisition of the shares of Renong Bhd and United Engineers Malaysia Bhd (UEM) by the government almost 23 years ago.
(Focus Malaysia) – Recall that the now chief advocate of Proklamasi Melayu had on May 5 filed a RM150 mil lawsuit against Prime Minister Datuk Seri Anwar Ibrahim over claims he had amassed wealth for personal riches while in power.
This comes after the former Bersatu and Pejuang founder warned that he would proceed with legal action if Anwar did not comply with his letter of demand for an apology over the claim made during the PKR president's policy speech at the party's special national congress on March 18.
The nonagenarian claimed that the allegation had "tainted the plaintiff's image as a statesman (negarawan) who was the former prime minister (twice), has a reputation as a politician and leader who is respected in Malaysia and worldwide".
Considering the timing of the suit by Halim and two other parties which named Dr Mahathir, former finance minister II Tan Sri Nor Mohamed Yakcop and the government as defendants, one cannot help wondering if this will at all throw a spanner into the newfound enthusiasm of the elderly statesman who has in recent times reconciled with foes in PAS president Tan Sri Hadi Awang and Perikatan Nasional (PN) chairman Tan Sri Muhyiddin Yassin.
For the record, Muhyiddin who himself is facing seven charges of power abuse and money laundering totalling RM427.5 mil has in recent times been keeping mum despite calls for him to advise his son-in-law Datuk Seri Muhammad Adlan Berhan to turn himself in to the Malaysian Anti-Corruption Commission (MACC) to assist an investigation into corrupt practices relating to the registration, acquisition and storage of biometric data of foreign workers.
Even if the legal suits or court charges are not expected to shake both Dr Mahathir and Muhyiddin who is presently the Bersatu president, one wonders if they will at all serve as a distraction to staunch PN supporters to re-consider their stance or even to fence-sitters to stay away from parties or coalitions whose leaders are law breakers.