Dr M hopes for clean sweep by PN in state polls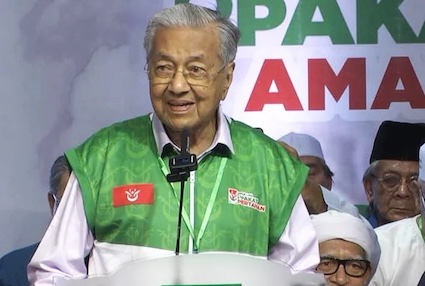 The former prime minister calls for voters to back the opposition on Aug 12.
(FMT) – Dr Mahathir Mohamad has called on voters to ensure Perikatan Nasional wins all six states in the upcoming polls.
Prior to the dissolution of the state assemblies, PAS were the governments in Kedah, Kelantan and Terengganu. The remaining three states involved in the polls, namely, Selangor, Penang and Negeri Sembilan, were led by Pakatan Harapan.
Sharing the stage with PAS, the party he had been at loggerheads with during his stint as prime minister, Mahathir hoped for a "clean sweep" by PN, Malaysiakini reported.
"We are all Malays. Many said Malays are divided and will never unite, but tonight we can see Malay party leaders gathered here to fight for the country's future," he was quoted as saying.
Mahathir's appearance at the PN event in Kelantan comes months after PAS president Abdul Hadi Awang and several leaders of the Islamic party signed the "Malay Proclamation", said to be the brainchild of the former Langkawi MP.
The event was also attended by PAS president Abdul Hadi Awang and former prime minister Muhyiddin Yassin.
Muhyiddin and Mahathir met earlier this month, the first time since the Sheraton Move in February 2020 which ultimately led to the collapse of the former Pakatan Harapan government led by the latter.
In June, Mahathir ruled out contesting in the state elections.
The state elections will be held on Aug 12.