"Selangor landgrabs": Deep corruption, poor coordination, or misunderstanding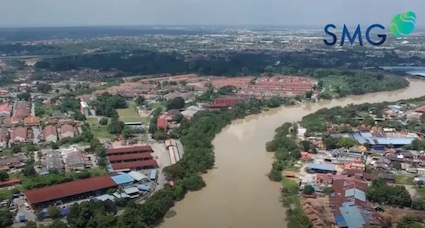 The Federal and Selangor governments need to explain the Selangor Maritime Gateway
MURRAY HUNTER
The Selangor State government, through their subsidiary MBI awarded a RM 700m for a river reclamation project, and pays for to the contractor Landasan Lumayan Berjaya Sdn. Bhd. with 600 acres of choice development land land.
· Selangor government claimed the 'land swap' in lieu of financial payment was necessary due to lack of federal funding.
· Leaked documents indicate that the ministry of natural resources have allocated RM 690 million has been allocated for flood migration work along the same river.
Caretaker chief minister Amirudin Shari had awarded an RM 700 riverside development (deepening and widening the river) contract to a company Landasan Lumayan Berjaya Sdn. Bhd, a company 55% owned by Berjaya Corporation, and 45% owned by the Selangor state government, through direct negotiation. So technically not a subsidiary of MBI.
https://murrayhunter.substack.com/p/selangor-mb-director-of-company-handed
Now, the company awarded the tender to undertake the river reclamation work is outsourcing the who contract to a third party, via tender (see below).