Boycotting BN-PH at polls weakens Umno, not Zahid, says veteran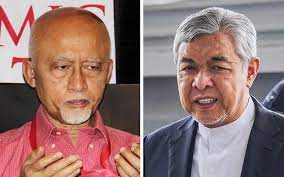 Mustapha Yaakub says Umno members voted for PN in GE15 in protest against Ahmad Zahid Hamidi, but this did not affect his position as party president.
(FMT) – Boycotting Barisan Nasional and Pakatan Harapan in the elections in six states will not weaken Umno president Ahmad Zahid Hamidi's position, an Umno veteran has told the party's grassroots.
Instead, Umno Veterans' Club secretary-general Mustapha Yaakub said, Umno members voting for Perikatan Nasional in protest against Zahid would only weaken the party's influence in the federal administration.
Mustapha advised the Umno grassroots to learn from the 15th general election (GE15) which, he said, saw Umno members voting for PN in protest against Zahid but failing to affect his position as party president.
"They tried to register protest votes (by voting for PN) in hopes that this would pile the pressure on Zahid, but it had no effect," he told FMT.
He pointed out that Zahid still had the backing of the Umno general assembly, as it agreed that the Umno president's post should not be contested in the recent party elections.
Mustapha urged Umno members to strengthen the party's position in the unity government rather than focus on efforts to pressure Zahid to step down as president.
"Ensure that Umno wins at the state polls because our goal is to be in government. If we lose, it won't cause Zahid to fall or step down," he said.
Umno put up its worst electoral performance in GE15 as it won only 26 parliamentary seats, 28 fewer than the 54 it won in the 2018 general election, which saw BN voted out of Putrajaya.
There is speculation that the Umno grassroots will vote for PN in the state elections to showcase their dissatisfaction with Zahid's leadership, including over the decision to work with PH.