3 Johor UMNO warlords are expected to join PN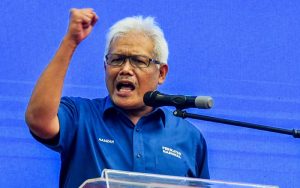 THREE out of 10 UMNO warlords who are allegedly joining Perikatan Nasional (PN) are from Johor, according to a Sinar Harian report.
(Focus Malaysia) – The trio were reportedly influential and had previously held significant positions in UMNO, according to the report which cited an unnamed source.
"I cannot name them now but I can tell you they are from Johor. They are important people. That is why we call them 'warlords'. We will announce their entry soon," said the source.
PN Secretary-General Datuk Seri Hamzah Zainudin and Bersatu media leader Datuk Razali Idris recently claimed that 10 "UMNO warlords" will soon join PN.
Moreover, former UMNO Kelantan figure Tan Sri Annuar Musa has formally joined PAS while former UMNO Selangor chairman Tan Sri Noh Omar has been actively campaigning for PN.