PN seems to have given up on non-Malay voters, say analysts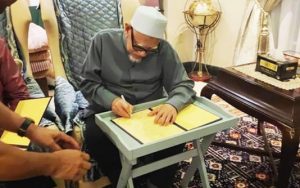 "PAS' big loss is the non-Malay voters, especially in Sabah and Sarawak"
(FMT) – The move by several Perikatan Nasional (PN) leaders to sign the "Malay Proclamation" suggests that the coalition has "given up" on non-Malay voters, say analysts.
Azmi Hassan from Akademi Nusantara believed that PN was willing to play up issues focusing on the Malays and Islam because it knows that most non-Malay voters would not support the coalition, as seen in the last general election (GE15).
"The 'Malay Proclamation' can convince Malay voters (to vote for PN), especially in the six states that will soon hold elections," he said.
"As for attracting non-Malay votes, PN seems to have given up (on this)."
Earlier this month, PAS president Abdul Hadi Awang and several leaders of the Islamic party signed the "Malay Proclamation", a document that is the brainchild of Dr Mahathir Mohamad, to support the former prime minister's call to "unite and save the Malay community".
Bersatu's deputy president Ahmad Faizal Azumu, information chief Razali Idris and Supreme Council member Iskandar Dzulkarnain Abdul Khalid had also signed the document in their personal capacities.
Another analyst, Ariff Aizuddin Azlan of Universiti Teknologi Mara, believed that PAS' support for the "Malay Proclamation" would further alienate PN from non-Malay voters.
"PAS' big loss is the non-Malay voters, especially in Sabah and Sarawak," he said.
"Within the framework of a pluralistic society (like Malaysia), they should be treated with respect."
On Monday, Mahathir said he hoped Malay voters and leaders from political parties would sign the "Malay Proclamation", which listed 12 key problems faced by the Malays.
Mahathir said he came up with the proclamation, in which poverty among the Malay community was listed as a key problem, to "remind the Malays of the problems they are facing".
The Kedah chapter of Pejuang had also signed the proclamation, while former PKR vice-president Zuraida Kamaruddin had met with Mahathir to discuss the initiative.
Meanwhile, a Gerakan leader spoke out against several of his PN colleagues for supporting the "Malay Proclamation", describing it as "inappropriate".
Gerakan deputy president Oh Tong Keong said the Bersatu and PAS leaders should be working to help address economic issues instead of lending support to a race-based movement.