Hadi, PAS leaders sign Dr M's 'Malay Proclamation'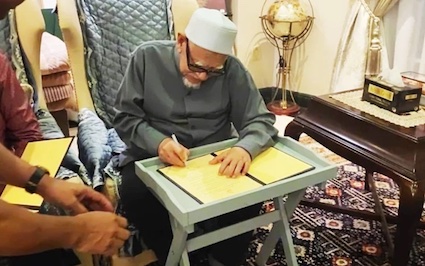 (FMT) – PAS president Abdul Hadi Awang and several leaders of the Islamic party have signed the "Malay Proclamation", said to be the brainchild of Dr Mahathir Mohamad.
Abu Bakar Yahya, an aide to Mahathir, posted a picture on Facebook of Hadi signing the document to signify his support for the former prime minister's call for the Malays to unite and "save" the community.
"Several top PAS leaders led by Hadi have expressed their support for the proclamation (by signing the document) in Mahathir's presence," Bakar said in an accompanying post.
According to the "Proklamasi Orang Melayu" Facebook page, the meeting took place last night, with PAS secretary-general Takiyuddin Hassan and vice-president Ahmad Samsuri Mokhtar among those in attendance.
In a video posted on the page, Hadi dismissed claims that the proclamation was racist in nature. He claimed that the Malays were the "original" race in Malaysia.
In March, a previous attempt to hold the event featuring Mahathir was called off after the host venues cancelled the organiser's booking.
At the time, Mahathir accused Prime Minister Anwar Ibrahim of ordering the cancellation.
"Nothing like this can be done without his consent or directive," he said.
Last week, Mahathir said people should not fear the "green wave" of support for Perikatan Nasional, pointing out that Malaysia saw rapid development when it was governed by a Malay-majority government for 60 years.
The former Pejuang chairman and Langkawi MP also said non-Malays "achieved a lot of progress" during that period.