Brokers yawn over missing details as Anwar returns from China claiming 'historic high' investments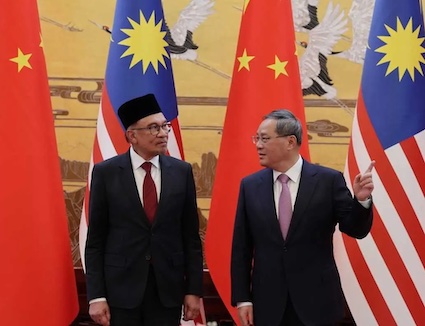 Only two of the 19 MoUs have some details, while questions are asked on the nature of the investments by Chinese companies.
(Malaysia Now) – Details have been scarce on the 19 memorandums of understanding (MoUs) signed between Malaysian and Chinese firms during Anwar Ibrahim's visit to Beijing, leading to questions on the nature and worth of investments the prime minister claimed to have secured.
Anwar described the MoUs as "historic", saying they far surpassed the more than RM140 billion signed during Najib Razak's visit to China, seen then as a historic high.
The former prime minister in 2016 announced a total of 14 agreements with Chinese firms worth RM144 billion, described the biggest single investment commitment.
While news reports and soundbites in the aftermath of Anwar's China visit painted a confident picture of an "upward trend" in China-Malaysia ties, domestic brokers and investors were eager to find out what the latest MoUs were.
"Until the full details of the industries involved and the nature of investments are published, the list is a yawn," said one broker to MalaysiaNow.
A list of the 19 MoUs being circulated among market players shows details for only two of them.
They include an MoU between China's export and import chamber of commerce for electronic products and the Associated Chinese Chambers of Commerce and Industry Malaysia, the main representative for Malaysian Chinese businesses.
"The other MoU is with Geely, the auto-maker which was an entity brought in during Najib's era to treat Malaysia's ailing national car industry," said an investment consultant.
One broker said it was critical for the government to share more specifics and details on the investments pledged, adding that the nature of MoUs is not legally binding.
"It's just the paper version of a handshake," he told MalaysiaNow.
There were also questions on how many of the MoUs were new, and how many were reaffirmations from the same investors who had started setting up base in Malaysia over the last three years.
A source familiar with foreign direct investments (FDI) said the National Committee on Investment (NCI) should be informed of the latest undertakings to invest in Malaysia.
"NCI is the highest body which approves all FDIs. Whether or not these latest investments have been tabled to them, I wouldn't know. Without its approval, they will not invest," the source added.
There were also questions on whether the investments to be brought were technology-driven and fulfilled environmental, social and governance (ESG) requirements.
"How many of the Chinese companies setting their sights on Malaysia are ESG-certified or driven by green tech and AI, in keeping with our shift to high-quality investors?" the source asked.