Hannah Yeoh lambasts PN's hypocritical stance on Muslims visiting churches
Even then, Yeoh said, Impact Malaysia would prohibit Muslims from visiting any church under the programme called "Jom Ziarah" with similar programmes only seeing the participation of Chinese and Indian youths.
(Focus Malaysia) – YOUTH and Sports Minister Hannah Yeoh was spot on when she claims that Perikatan Nasional (PN) is doing everything possible to divert attention away from the wrongdoings of its key leaders – the latest being the seven charges of power abuse, corruption and money laundering levelled at its chairman Tan Sri Muhyiddin Yassin.
In so doing, the Segambut MP claimed that the opposition has gone to the extent of making her a "punching bag" by associating an agency under her ministry as spearheading a "Christian Evangelist" movement.
In this regard, the DAP's national publicity assistant secretary took a jibe at PAS whose deputy president Datuk Seri Tuan Ibrahim Tuan Man had in October 2018 – during the reign of the Pakatan Harapan (PH) administration – said PAS had no issue with Muslims visiting temples and churches as long as they did not participate in the rituals.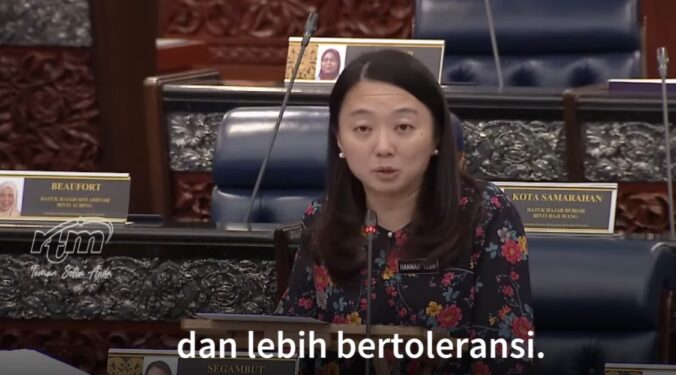 In fact, the Kubang Kerian MP has made Prophet Muhammad's companion Saidina Umar Al-Khattab as a known example of Muslim leaders who is known to have visited churches in Palestine.
"HarakahDaily (PAS; mouthpiece) reported Tuan Ibrahim as saying that it was not haram (prohibited) for Muslims to enter the houses of worship of non-Muslims," she told the Dewan Rakyat yesterday (March 14) when replying to points raised about her ministry during the debate on the Supply Bill 2023.
"If PN wants to attack me, they should check what their partners had said before. Don't say (Muslim) youths should not be allowed in churches when PAS had said there was nothing wrong. People will get confused."