Bersatu Youth chief defends Hadi over 'plan to topple govt'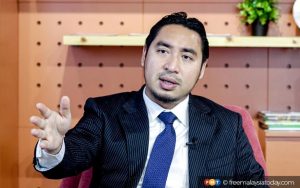 Bersatu Youth chief Wan Ahmad Fayhsal Wan Ahmad Kamal has defended PAS president Abdul Hadi Awang over remarks that the opposition has the right to formulate plans to "topple the government".
(FMT) – Wan Fayhsal claimed that Hadi's remarks, which were made during a press conference, were "misconstrued" by the media.
"I wouldn't use the term 'topple the government' because to me, that sounds quite negative and goes against the spirit of parliamentary democracy," he told FMT.
He said the Marang MP was just explaining that in a parliamentary democracy, a change in government could always happen, even with an anti-hopping law in place.
Wan Fayhsal said there was no law to prohibit any MP from supporting another as prime minister. "It's legal, it's constitutional," he said.
On Monday, Hadi said the opposition had every right to formulate plans to "topple" the current government and that they were working on retaking Putrajaya "not only through elections but also in Parliament".
Asked to comment on calls by Pakatan Harapan leaders for action to be taken against Hadi, Wan Fayhsal said it seemed like the coalition was afraid.
"My answer is simple, if you truly have two-thirds support, why are you afraid? Why are you so afraid to the point of urging the home minister to use a security measure to probe an 'academic' comment from a politician about a change in government?"
He said he did not view Hadi's comment as seditious in nature. "If we can't change (the government), then we are living under a dictatorship."
Equal allocations
Wan Fayhsal also said it was not hypocritical of the opposition to demand equal funding for MPs even though the Perikatan Nasional-led government did not do so.
The Machang MP said PH should not deny opposition MPs equal allocations just because they did not get it in the past.
"Then what makes you different from us?" he said.
Prime Minister Anwar Ibrahim has said he supports giving equal allocations to all MPs subject to negotiations with the opposition bloc.
Anwar's deputy, Ahmad Zahid Hamidi, previously dismissed calls from PN leaders for equal funds.