An Umno in crisis will affect unity govt in state polls, say analysts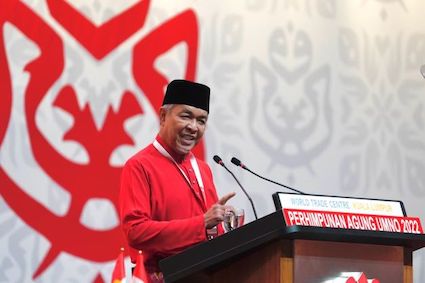 (FMT) – An Umno in crisis will affect the unity government's performance in the upcoming state elections, analysts have predicted.
This follows the purge of several Umno leaders, including former Rembau MP Khairy Jamaluddin and former Selangor Umno chief Noh Omar, from the party on Friday night.
They were sacked for breaching party discipline during the recent general election (GE15), according to Umno secretary-general Ahmad Maslan.
Sembrong MP Hishammuddin Hussein was suspended for six years, allegedly for being the main driver behind the Barisan Nasional MPs signing statutory declarations (SD) backing Muhyiddin Yassin as prime minister after GE15, when no coalition had obtained a simple majority to form the new government.
Azeem Fazwan Ahmad Farouk of Universiti Sains Malaysia (USM) said the Anwar Ibrahim-led unity government will ultimately bear the brunt of any infighting within Umno.
"One's crisis is another's opportunity. Things might go south for the government if Anwar doesn't take stock of what is going on in Umno.
"More so, if he continues to depend on Zahid (Umno president Ahmad Zahid Hamidi) for Umno's support in the unity government. Things are very fluid and evolving quickly," Azeem told FMT.
James Chin of the University of Tasmania said the "real support" for the government can be measured in the elections in six states that must be held this year.
"The honeymoon is over," he told FMT. "If PH or Anwar does not move quickly, there'll be trouble in the state polls, which are the real barometer of support."
He expected Penang and Selangor to be retained by PH, and Kelantan and Terengganu by PAS. The other two states – Negeri Sembilan and Kedah – could go either way, he said, describing them as "swing states".
Chin also said the claim by PKR deputy president Rafizi Ramli that the government is stable is not true, adding that "everything hinges on the state elections".
Ooi Kee Beng of Penang Institute said Anwar will have to be more innovative to "survive comfortably" over the coming year.
"He should not think so much about the state elections, as he should about providing leadership that inspires by acting as a statesman instead of a coalition leader," he said.
"That is admittedly difficult, but reform movements are no walk in the park. Putting power to good use is the art of a statesman."
Azeem also said former deputy prime minister Musa Hitam's advice to Rafizi to buck up was spot on, adding that the new minister should tackle national crises head-on without taking too much time.
Rafizi had said in a panel discussion last night it would take two to three years for the economy to recover, but Musa told him the voters' impatience is growing, as they have given the government three to six months to carry out reforms.
Azeem said Rafizi could be cautious based on information from bureaucrats, which might be unreliable.
"I agree with Musa, you don't need such a long period to adjust. Roll up your sleeves and get cracking. No need for excuses and attacks on the past administration.
"There is no such thing as a honeymoon period when your job is to govern. You have five years, you move within that timeline. We all know policies take time to materialise," he said.