Najib's ex-aide: Bersatu and entire PN coalition members at risk of de-registration
(Focus Malaysia) – It will be interesting to know why former Barisan Nasional (BN) strategic communication deputy director Eric See-To (main pic) is taking 'numerous pot shots' at Tan Sri Muhyiddin Yassin that the remand order imposed on the 42-year old CEO over probe in RM92.5 bil spent by the latter's administration will provide Bersatu and Perikatan Nasional (PN) with "sleepless nights".
A prominent BN cybertrooper during incarcerated ex-premier Datuk Seri Najib Razak's administration, See-To opined that if the contractors implicated in the case are able to prove their claims of 3% to 5% commission pay-out into the account of a political party, this could eventually lead to the de-registration of "the entire Bersatu and whatever other parties within PN".
"If it is proven that such funds were used for election campaigning, including vote-buying during GE15 (15th General Election), then it could lead to multiple challenges to the election results that could mean many PN leaders losing their seats," penned See-To in a Facebook post under his pseudonym "Lim Sian See".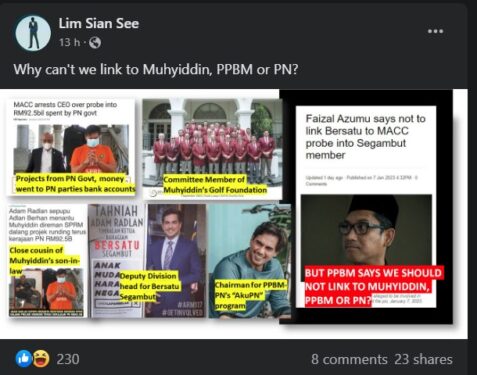 "And it could lead Midin (Muhyiddin) to be jailed as he had the power to determine who received such direct negotiation contracts (as he) is also the president of the party and coalition that received such commissions."
In his assessment, See-To rationalised that 3% to 5% of RM92.5 bil sums up to "between RM2.8 bil and RM4.6 bil and would certainly explain why PN's GE15 campaign spending was so lavish".
"These funds would certainly be proceeds from corruption and subject to AMLA (Anti-Terrorism Financing and Proceeds of Unlawful Activities Act 2001)," he pointed out.
In an earlier FB post, See-To also reminded the authorities not to practise "double standards" by "blocking Muhyiddin (who is the PN chairman and Bersatu president) from leaving the country".
"With the arrest of the sepupu menantu (cousin of son-in-law) and MACC's statement that several contractors admitted to agreeing to pay a commission of between 3%-5% over the RM92.5 bil direct negotiations scandal, the government should seize Muhyiddin's passport when he comes back from London," asserted the political blogger.
"Go raid his houses, too, and remember to check his bilik tidur (bedroom). 3%-5% is between RM2.8 bil and RM4.6 bil. Not a small sum."
In his latest FB post (released during time of writing), See-To reminisced about the seven-month long Emergency (from Jan 12, 2021 to Aug 1, 2021) imposed by Muhyiddin during his tenure (March 2020 to August 2021) and "its never-ending half-baked PKP (movement control order) during the period".
"The Darurat (Emergency) was never justified. No other country in the world suspended Parliament for so long and imposed such a long PKP until many raised white flags," he justified.
"The Darurat was merely an excuse to stop his (Muhyiddin) government from being toppled while his proxies and cronies went around robbing 3%-5% of government spending. It would be a saving grace if the Daruarat and the PKP worked and stopped COVID."