When bikinis are only meant for the bedroom; no longer suited as beach wear in Melaka beaches
A NEW attire code has emerged in Melaka whereby beachgoers has been sternly warned not to compromise on their dignity by donning bikinis by the Malacca Islamic Religion Department (JAIM).
(Focus Malaysia) – JAIM director Datuk Che Sukri Che Mat has described the act of a viral video of a group of foreign tourists having a picnic while bathing in Pulau Besar – with no regard for the feeling of local visitors there – as having tarnished the image and sanctity of the mystical and legendary island which also housed the cemetery of renowned local warrior Tok Janggut.
In fact, JAIM will hold a special meeting tomorrow (Jan 3) with several related agencies to discuss the issue of non-Muslim tourists who engage in activities contrary to the teachings and culture of the Muslim community in this state.
"The meeting will involve the Royal Malaysian Police (PDRM), the Historic Melaka City Council (MBMB) and the Melaka Islands Development Council (MPPM) as well as several other related agencies," he told a media conference after leading an operation to prevent immorality in conjunction with the New Year 2023 in Alor Gajah in the wee hours of New Year's Eve.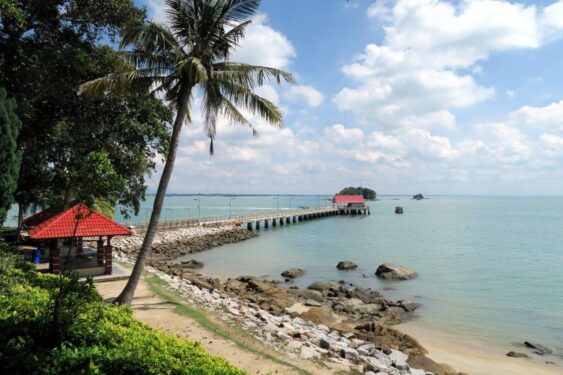 "It will discuss the best action to take against errant foreign tourists who damage the image and sanctity of this Pulau Besar which has been respected with the historical values linked to the beginning of Islamic civilisation."
Che Sukri's comment came in the wake of a nearly three-minute footage whereby a group of female tourists wore bikinis to bathe and roam the island's beaches.
Delving further on the matter, Che Sukri nevertheless clarified that JAIM cannot take action against the tourists because Section 71 of the Melaka State Shariah Offenses Enactment 1991 only applies to Muslims.
In this regard, he said JAIM will take proactive steps such as suggesting to the Historical Malacca City Council (MBMB) to erect more signage to remind tourists to always dress modestly and not to engage in activities contrary to Islamic teachings on the island.