After Kedah, PAS wants Fed gov't to have same political determination to shut down gambling dens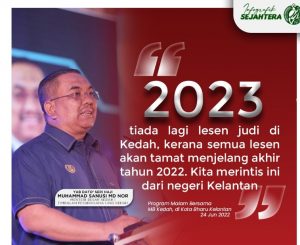 "The 4D black market will thrive as more punters will patronise these operators"
(Focus Malaysia) – DESPITE various negative reactions that doubted Kedah's ability to survive economically as a result of the closure of gambling premises, heaven does have mercy on the state by enabling it to derive its revenue from other halal means so to speak.
The biggest rice producer in the country received the highest investment in its history throughout 2021, producing a series of high-impact mega projects in addition to successfully creating hundreds of thousands of job opportunities in the state, so claimed Central PAS Ulamak Council (DUPP) Datuk Ahmad Yahaya.
"Alhamdulillah (praise be to God), one door of damage is closed, millions of doors of blessings and abundant sustenance are opened. This is the pillar of blessing from the Almighty God," Ahmad heaped praises in a media statement.
He has earlier congratulated the Kedah state government led by its PAS Menteri Besar Datuk Seri Muhammad Sanusi Md Nor for the state's determination to abolish gambling licenses in the state with effect from yesterday (Jan 1).
Such actions make Kedah the third state after Kelantan and Terengganu to terminate gambling licenses under the PAS-administered state government.
"The implementation of the policy simultaneously fulfills part of the demands of the Al-Quran itself which prevents its people from impurity gambling," noted Ahmad.
"It is hoped that this policy will continue and gambling excrement will no longer have a foothold in the land of Jelapang Padi."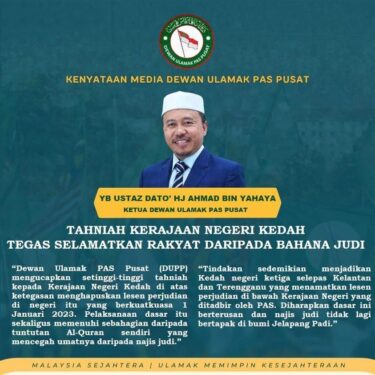 With Kedah becoming the third state to ban gambling-related activities, DUPP has called on the Federal Government to possess the same political determination.
"It is not appropriate to only be proud of the decrease in the number of draws, but the premise of gambling is still allowed to fetter the community in this country," challenged Ahmad, pointing to Prime Minister Datuk Seri Anwar Ibrahim's recent announcement to slash the number of special draws to eight in 2023 from 22 last year.