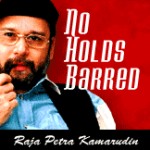 If I were a non-Muslim, I would not get involved in the Hudud debate, knowing that the Malays-Muslims themselves will never come to an agreement on the matter. Once I get involved, then we face the danger of the Malays who oppose Hudud agreeing with those who propose Hudud merely because they want to defend Islam from what they view as an attack by the non-Muslims.
NO HOLDS BARRED
Raja Petra Kamarudin
When we apply two different approaches to a subject, invariably, we will not be able to reconcile the answer we seek. For example, seeking the answer to our existence would not give us the same result when one is guided by theology and the other applies sociology, anthropology, history and archaeology.
Why do we exist? Is it by accident or is it by design? And is our existence the ultimate purpose, which will end when we expire, or is it merely a temporary step to a final destination, which will be determined by how we live our life in this world?
Such a basic question but not one that can be answered that simply. The answer, invariably, will be determined by what 'logic' we apply. And is the logic we are applying really logical? How, in the first place, can we define logic when different yardsticks are being applied? And when should logic be discarded for a higher discipline, that of the word of God, which is above logic and requires faith?
No, it is not a simple puzzle to solve. Even the matter of freedom of expression falls victim to many different viewpoints. Is name-calling and labelling someone Keling Pariah, Mamak Tongkang or Cina Mata Sepet, exceeding the boundaries of freedom of expression and falls within the classification of racial slurs or is this what freedom of expression is all about?
Try calling a British of Pakistani origin a Paki here in Britain and see what will happen to you. Is not a British a Brit and an Australian an Aussie and an American a Yank? So what's wrong with a Pakistani being called a Paki? It is not that a Pakistani is not a Paki but the fact that it has been 'agreed', by whom I do not know, that the word Paki is a racial slur.
And it is not just that society accepts the word Paki as a racial slur. It is also how you say it -- the tone of your voice and the look on your face. A Malay is certainly a Melayu, there is no denying that. But it is how you use the word Melayu that counts. Using the 'correct' tone of voice and with the 'right' look on your face, the word Melayu can be turned into an insult.
So how do we resolve the matter of Hudud, the punishment for crimes under the Islamic laws known as the Sharia? Before that, can this matter even be resolved in the first place? Well, not if we apply two different yardsticks in arguing the case for or against Hudud. No issue can be resolved when two different yardsticks are applied and both are considered logical to the proponents as well as the opponents of Hudud.
A Pakistani is a Paki to a non-Pakistani but an insult to a Pakistani. Both are right. Yet both can never come to an agreement as to whether it was meant as an insult or not. Maybe it was a statement of fact. Maybe it was an insult. The only way to avoid the crosswire would be to call a Pakistani a Brit and leave it at that.
After all, Britons no longer exist anyway. Every Brit is a son or daughter of an immigrant. The only thing is did they migrate to Britain 100 B.C. or 2,000 years after that? Invariably, every Brit, if the roots are traced, came from somewhere outside Britain. That is the reality of the whole thing. At best, they can claim some British blood but can never lay claim to a thoroughbred Brit. Hence, the Pakistani is as British as the Royal Family or the Prime Minister of Great Britain.
When would we consider the cut-off date? If the year 100 were the cut-off date then the Italians would be Brits. If 300 were the cut-off date then the Scandinavians would be Brits. If 500 were the cut-off date then the Germans would be Brits. If 1100 were the cut-off date then the French would be Brits. If 1990 were the cut-off date then those from the Indian subcontinent would be Brits. If there is no cut-off date then everyone is a Brit. There are no Pakistanis in Britain, and hence no Pakis as well.
See how simple it is in Britain. Britain never saw independence because it never lost its independence. Britain was conquered by one power after another over more than 2,000 years and the conquerors became Brits, even when they spoke French and not a word of English. So everyone in Britain is a Brit and there are no pendatangs. If there are pendatangs, then every single person in Britain is a pendatang. It is as simple as that.
But in Malaysia it is more complicating. Malaysia never existed until 1963. From 1957 it existed as Malaya. Before that there was no Malaya. The British created Malaya. And in creating Malaya they also created Malays, who also never existed until the British created them. And the British declared that Malaya belonged to the Malays and everyone else is an immigrant.
But what is the cut-off date? The cut-off date is not clear. If the cut-off date were 1700 then the entire Selangor Royal Family would be pendatang. If the cut-off date were 31st August 1957 then only those born outside the country after that date would be pendatangs. Those born outside Malaya before 31st August 1957 and those born in the country after 31st August 1957 would be Malaysians.
Nevertheless, the British had decided that Malaya would be given independence on 31st August 1957 and with independence we would receive a written Constitution, something that the British themselves do not have. And in this written Constitution it would be stated plus implied that the Malays own the land. And to reinforce this ownership, Islam would be the religion of the land, Malay would be the official language, and Malays would be accorded certain privileges.
This was the agreement, whether stated or implied. And it was an agreement that all the races in Peninsular Malaysia agreed to adopt. It was not unilateral. It was bilateral. Was this a mistake, especially on the part of the Chinese and the Indians? On hindsight it is always easy to talk. Everyone is an expert on hindsight. It is foresight that matters. Did the Chinese and Indians not have the foresight to see that an open-ended agreement with no expiry date would be binding to future generations of Chinese and Indians who would still be regarded as Chinese and Indians and 'secondary' Malayans?
And this is why we are currently facing a problem regarding Hudud. To Malaysians who are not Muslims, Hudud is viewed as a legal matter. It involves the punishment meted out for certain crimes. Hence Hudud needs to be discussed under the ambit of the legal system.
They are, of course, correct.
To Muslims, however, Hudud is not about the law. It is about what God has commanded. And God's command is beyond discussion. It is about acceptance without argument. To reject God's command is like the Catholics rejecting the Trinity or the Jews rejecting the Ten Commandments. It is a matter that cannot be compromised.
They are, of course, also correct -- at least as far as each religious faith is concerned.
So both are correct, no one is wrong. So how do we resolve a situation where both are correct and no one is wrong but the 'correctness' of their views places them at odds?
As long as the Muslims in Malaysia believe that Islam is the religion of the land and hence whatever is mandatory in Islam becomes mandatory for the whole country then this is not a matter that will see a solution.
All other religions will be allowed, but Islam is the religion of the land, not the other religions. The Malays are masters of the land. Non-Malays will be allowed a place under the Malaysian sun but will be secondary to the Malays. This is what the British intended for independent Malaya. And the British made sure that this intention was clearly stated in a written Constitution.
Basically, we are faced with a belief system here, the belief that the Malays are the masters of the land and Islam is the religion of the land. And belief systems are not easy to eradicate. Can we convince the Christians that Jesus Christ was a mere man and not divine or the Son of God, hence the Trinity does not exist? Can we convince the Muslims that the Qur'an was not the word of God because it was compiled by a 'committee' years after the death of the Prophet and 'strengthened' by the Hadith, which was a creation of 'spin-doctors'?
I fear that would be an impossible task. Both the Christians as well as the Muslims would never change their belief system just because you say so. Belief systems are carved in stone. And the belief that the Malays are masters of the land and Islam is the religion of the land is not a belief system that the Malays or Muslims will readily reject.
So what do we do about Hudud? What can we do about it? As long as the Malays believe that the Qur'an is God's word and that Hudud is God's command and that Islam is the religion of the land there is nothing we can do about it.
Can we resist or oppose Hudud? Well, can we resist or oppose the law that forbids Muslims from leaving Islam to become Christians, Hindus or Buddhists?
The only 'good' thing about the Hudud issue -- if you were the eternal optimist who always tries to see good in everything, like the 'blessing in disguise' thing -- is that Hudud has been reduced to a political issue. Hence, when it becomes a political issue, one side will oppose when the other side proposes. And this would mean that even amongst the Muslims the Hudud issue would never be resolved.
If I were a non-Muslim, I would not get involved in the Hudud debate, knowing that the Malays-Muslims themselves will never come to an agreement on the matter. Once I get involved, then we face the danger of the Malays who oppose Hudud agreeing with those who propose Hudud merely because they want to defend Islam from what they view as an attack by the non-Muslims.
Let me put it another way. When the Chinese are of the opinion that Chinese education is 'under attack', even the MCA and DAP people can sit at the same table under the umbrella of Chinese education to hammer out an issue of common interest. And this is what can happen when Hudud is viewed as 'under attack' -- the Malays will share a common platform in the interest of 'mempertahankan kedaulatan Islam' (in defence of the sanctity of Islam).
So be careful with what you say. Calling a Pakistani a Paki may be kosher to you. The Pakistani, however, may view it as an insult and you can go to jail in Britain if you pass racial slurs. In that same spirit, labelling Hudud as barbaric and those who propagate it as stupid is certainly your right under freedom of expression. To the Muslim, however, that is an insult to God and freedom of expression does not include insulting God.
So what do we do then? Do we just shut up and accept the fact that we must lose certain freedom of expression? Or do we speak our mind whatever the consequences in the interest of freedom of expression?
Honestly, I really do not know. When two different sets of values are applied I am at a loss. My solution would be to just let the two sides argue and we see where the cards fall. Most likely they will continue to argue into the next generation without any resolution. In that case nothing will happen so we do not need to address anything.
Is this a solution? Maybe not! It is more like ignoring it and hoping it will go away. But that is how I sometimes handle the common cold and it does go away. Then, sometimes it may become pneumonia, who knows? But next month I will be 62 and I am still alive. So maybe I have not come out the worst for ignoring the common cold and just allowing it to run its course after all.
But, yes, I know, we all want to speak and say something. We do not want to allow the 'other side' to speak unchallenged. So we speak even when what we say is not going to achieve anything. And we will all scream and oppose or scream and defend Hudud when we know nothing is going to happen in the end. And we will find out that loose lips sink ships. But never mind if the ship sinks as long as we can talk while it sinks.
Such is the folly of mankind. And aren't wars fought in defence of national pride and dignity when all that is merely another word for ego? And who am I to take away your right of free speech, never mind what is being said will see no light at the end of the tunnel? That, in the end, is what will prevail.