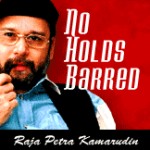 So what specifically do they mean by Islamic architecture? Just like in the case of JAKIM banning books, we need details. You ban a book without telling us what is specifically wrong with it. And you demand Islamic architecture without telling us specifically what it is supposed to look like.
NO HOLDS BARRED
Raja Petra Kamarudin
I would like to refer to the two news items below but do not know whether I should write a thesis or just my normal 'short' seven-page article. Anyway, let me just start writing and we shall see where we end up.
The two news items I am talking about are related to Islam, a most sensitive subject in Islamophobia Malaysia. 'Islamophobia' actually mean prejudice against or hatred and/or irrational fear of Islam or Muslims. In Malaysia, however, it can also mean a phobia that Malaysians in general and Muslims in particular are not doing the 'correct' Islamic thing.
Now, the federal government or JAKIM is banning books on Islam, or books they regard as 'against Islamic teachings', while the state government of Kelantan is imposing Islamic architecture in the state.
Why don't the government just burn all books totally like what the Mongols did or burn all books not related to Islam like what the Wahabis did. Book burning and book banning has always been a strategy used by despotic governments to keep the people in ignorance. And this is so that the powers-that-be can control the people.
An educated population becomes a thinking population and hence would be a danger to the ruling elite. Therefore, the government would like to keep the people in ignorance just so that it can control the people by enslaving them. And this slavery is more effective when the government can imprison our minds.
Okay, so JAKIM has, yet again, banned a book it perceives as insulting to Islam and "contravening teachings in the Quran and Hadiths". That is well and fine. But is it not the duty of JAKIM to point out which part of that book is in error, or is deceiving, and what it should correctly be?
For example, did the book say that Prophet Muhammad was born in Medina whereas he was born in Mekah? And was his date of birth mentioned in that book wrong? We need to know which part of that book is wrong and what it should be instead.
As it is, JAKIM just imposes a blanket ban on the book on grounds that the book is misleading. Surely not 100% of that book is misleading. Even if there were any errors in that book it would be only a part of that book, not the whole book.
JAKIM is supposed to play the role of educator of Islam. You do not educate people by banning books. You educate them by correcting misconceptions. If there are wrong beliefs then you tell us which are these wrong beliefs and what the right beliefs are.
Not many Malaysians were initially aware of the existence of these banned books until JAKIM banned them. Now that they are banned these books would become popular. The books may be banned in Malaysia in its print form, but how is JAKIM going to stop people from reading this book online? And when more than 50% of Malaysians are on the Internet, more people are going to read it now than before it was banned. I mean, more than 10 million Malaysians can read books online but they can't sell 10 million copies of any book in Malaysia. They can't even sell one million copies.
Hence more damage has been done by banning the book compared to allowing the book and relying to what you consider 'wrong teachings'. Can you see how stupid these people from JAKIM are? They give idiots a bad name. And these are the same people who tortured me with sleep deprivation when they detained me in 2008. So what more can you expect from them?
Kelantan, on the other hand, wants to impose Islamic architecture in the state. What Islamic architecture are they talking about? Have a look at the photographs below. Is this what they mean?
You see, in the desert, there are sand storms and no rain. So buildings need to be designed differently from those in places, say, like Malaysia, which has monsoon rains. If we design 'Islamic' buildings in Malaysia they would not be that appropriate.
So what specifically do they mean by Islamic architecture? Just like in the case of JAKIM banning books, we need details. You ban a book without telling us what is specifically wrong with it. And you demand Islamic architecture without telling us specifically what it is supposed to look like.
During the time of the Prophet, people lived in tents and wooden huts. Is that what you mean by Islamic architecture? Jeddah airport is designed like a huge tent. So you want all buildings in Kelantan to look like a huge tent?
Actually, Islamic architecture has been borrowed from the Persian Sassanid and Eastern Roman Byzantine period with some Germanic Visigoth influence. Hence they are not Islamic but per-Islamic as well Christian architecture. When the Moors invaded Christian Spain, they 'stole' the horseshoe arch design. Hence that is, again, Christian architecture.
The Dome of the Rock (Qubbat al-Sakhrah), which was built in Jerusalem in 691, is considered one of the most important buildings in all of Islamic architecture. That, however, has a very strong Byzantine influence. The very form of a rotunda given to the Qubbat al-Sakhrah is foreign to Islam and was an attempt to rival the many Christian domes of its time.
So what Islamic architecture are you talking about? The tent design? The square box design? Or the Christian design that was stolen by the Muslims? Which design is Kelantan going to impose on developers?
So can you see why JAKIM wants to ban books? It is because if they do not ban books then we may discover the truth. And the truth is there is no such thing as Islamic design. The Kuala Lumpur Railway Station, the Sultan Sulaiman Building in front of Dataran Merdeka, etc., were actually designed by the 'kafir' British and adopted from Moorish architecture. The Moors, in turn, took this design from Christian Spain.
That's why. Don't simply ban books. If you ban books then EXCO Members like those from Kelantan would remain ignorant. They would think that Moorish architecture, which was stolen from the Spanish Christians, are actually Islamic designs.
Yeah, sure, ABU, ABU, ABU! Asal bukan Umno! Never mind if we vote for idiots as long as not Umno. Never mind if these idiots ban books and impose Islamic architecture as long as not Umno.
It is time these people are told that it is ABUAI -- anything but Umno and idiots.
*************************************
Ministry bans Irshad's latest book for insulting Islam
The Home Ministry has banned the book Allah, Liberty and Love, based on Malaysian Islamic Development Department's (Jakim) finding that the publication contained elements insulting to Islam.
"The book contravenes teachings in the Quran and Hadiths," said Deputy Home Minister Datuk Wira Abu Seman.
The ministry decided to ban the book by Ugandan-born Canadian writer Irshad Manji under Section 7 Subsection 1 of the Printing Presses and Publications Act 1984.
"The book, believed to have elements that can deviate Muslims from their faith and teachings and elements which insulted Islam, has received numerous complaints," he said in a statement here yesterday.
Irshad is also known to openly support the lesbian, gay and bisexual and transsexual lifestyles.
Her previous book The Trouble With Islam Today was banned in Malaysia in 2009.
*************************************
Kelantan: Islamic designs a must
(The Star) - A controversy is brewing over the proposal for the construction of a Buddhist building here after the PAS-led state government ruled that new buildings should include Islamic designs to reflect the state capital's status as an Islamic city.
State Local Government, Culture, Arts and Tourism committee chairman Datuk Takiyuddin Hassan said developers must incorporate some Islamic elements in their plans or the proposals would be rejected.
"We will ensure development will be based on Islamic principles and features," he told a press conference here yesterday.
He claimed the ruling was well-accepted by the majority of developers, including non-Muslim developers.
"I do not see it as an issue or something that could cause religious tension, as it only involves architecture and design.
"They have accepted the new ruling well," he said.
Takiyuddin was commenting on an appeal by the Kelantan Buddhist Association for the state government to approve its building, to be constructed with Chinese features at Jalan Sultan Zainal Abidin here.
It is understood that the association had been told that its building design should have dome-shaped motifs, which have created a controversy in the Chinese media.
In an immediate reaction, Kota Baru MCA division chief Tan Ken Ten slammed the directive, which he said was an infringement of the rights of non-Muslims in the state.
"The ruling is an extreme attempt to impose one's beliefs into other people's culture or religious beliefs.
"The PAS government must be mindful that Malaysia is a multi-cultural and multi-religious society that respects the differences of each community. It should appreciate this diversity which makes this country unique," Tan added.
State MCA Youth chief Gan Han Chuan said the Kelantan government was showing disrespect towards the non-Muslims with its new policy.
"With the new directive, PAS is trying to create discord by destroying the harmonious relations between the communities that had been built by the Barisan Nasional over the years," he added.
"One can only wonder what type of archaic policies PAS will introduce if Pakatan Rakyat manages to take over the Federal Government," Gan said.