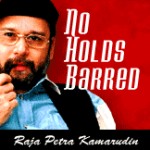 Today, 8th March 2011, is the third anniversary of the 8th March 2008 'Revolution'. Has the Revolution lost steam? Will the next general election see the opposition make more gains or is it downhill from hereon? This is what many are asking and most are of the opinion that March 2008 was a flash-in-the-pan. The next general election is not for Barisan Nasional to win but for Pakatan Rakyat to lose.

NO HOLDS BARRED
Raja Petra Kamarudin
**************************************************
PREVIOUS RECORDING CAN BE VIEWED HERE:
5. The opposition's understanding of freedom of speech (English)
4. Budaya politik zaman Merdeka: beban bagi pembangkang
3. The Sarawak opposition dilemma
2. RM1 billion per patrol boat is the way to make money
1. Why appoint him the PKR Sabah head in the first place?
MORE PREVIOUS RECORDINGS CAN BE VIEWED HERE
Comments
(0)
Write comment