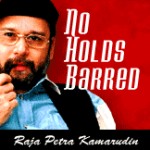 They blame Zaid for jeopardising the future of the opposition coalition. They even chide Malaysia Today for 'hurting' Pakatan Rakyat. But these 'they' are the same people who are burning the bridges and making it impossible for Zaid to reconsider his position.
NO HOLDS BARRED
Raja Petra Kamarudin
I have always picked up pieces by Tay Tian Yan (translated by Dominic Loh) to feature in Malaysia Today. This is the first time I am replying to what they published.
First of all, why are they 'crediting' the Third Force to Zaid Ibrahim? Talk of the Third Force emerged long before there was any indication of trouble in PKR or that Zaid would be leaving the party. Suddenly, everyone is saying that Zaid is the leader of the so-called Third Force. And I say so-called because there are hardly any clouds on the horizon and umbrellas are already popping up everywhere.
Is the Third Force just mulling, like the Unity Government was mulled over back in 2008 soon after the last general election, and which came to nought in the end?
There are some people in PKR who are attempting to play mediator to urge the two factions to close ranks. They are trying to persuade Zaid to not leave the party and instead stay on and continue his struggle within PKR and Pakatan Rakyat.
However, the way Zaid is being demonised, it will make it very difficult for the two factions to close ranks. Can Zaid now cool down and reconsider his position? I don't think so with what is being said about him. No way can the wounds heal. In fact, with the salt being rubbed into Zaid's wounds it would hurt even more.
They blame Zaid for jeopardising the future of the opposition coalition. They even chide Malaysia Today for 'hurting' Pakatan Rakyat. But these 'they' are the same people who are burning the bridges and making it impossible for Zaid to reconsider his position.
After what they are saying about Zaid he has no other choice but to move on and not look back in spite of the efforts to hammer out a reconciliation and 'peace treaty'.
Take this piece by Tay/Dominic. There is a tone of mockery in the way they write. If they had come out with a political analysis, that would be quite acceptable. When there is mockery in your voice then expect Zaid to take a stance of no compromise.
"To know things half way through is tremendously dangerous," said Tay/Dominic. I can say the same about them. Why are they assuming that Zaid is going to form a new party? From what I know, at this point of time Zaid has no intentions of forming a new party. He also has no intentions of joining another existing party. But if you push him too much and if you continue to mock him then he might just do that out of spite. And I would not blame him if he did. If you mock me I too would retaliate in the worse possible way that I can.
I suppose people like Tay/Dominic who are aligned to one faction in PKR are delighted with the current conflict in PKR. They are delighted that Zaid is leaving. In fact, they may even be aware that there are attempts being made to try to persuade the two factions to close ranks and to persuade Zaid not to leave.
Maybe this is why Zaid is being demonised. Maybe these are the real Trojan Horses after all. They are worried that a peace treaty might be hammered out and peace will again reign in PKR. So they are rubbing Zaid the wrong way to make sure that he does not cool down and reconsider his position.
It takes two hands to clap. We are only looking at what wrongs Zaid has done, which I do admit he has erred. But does this mean only Zaid has erred and the other side is noble and a reincarnation of Mother Teresa?
When I speak up for Zaid I am accused of being in his camp. I also speak up for Anwar, have been for 12 years until today (as far as his sodomy trials are concerned). Does this mean I am also in Anwar's camp? How I can I be both in Zaid's and Anwar's camps when they are at loggerheads?
Zaid and Azmin are at each other's throats. But I speak up for Zaid and also send Azmin congratulatory messages. Should I instead send Azmin a nasty message with four-letter words to 'prove' I am Zaid's man?
I don't mock Azmin. I send him nice messages. Why then should we mock Zaid? Is it to make sure that he hates PKR and do as much damage to PKR as he can?
Many try to pretend that they are matured. Sure, and when I go have tea with Tun Dr Mahathir Mohamad I never hear the end of it. Actually, the present problems facing PKR were triggered by the so-called PKR strong supporters who enjoy mocking others. This is probably the way for small people to imagine themselves as big people.
I can only see that there would be no turning back for Zaid. The effort to mediate in this matter and get Zaid to cool down and reconsider his stand is going to fail. And this is all because of the Trojan Horses masquerading as strong party supporters.
Do they really want the matter to be resolved or do they enjoy seeing this conflict in PKR?
Macam ni mampus lah PKR. Hancur!
********************************************
The Third Way? Come on, give me a break!
By TAY TIAN YAN
Translated by DOMINIC LOH
The Third Way? Or a Third Force?
With the recent stint of Zaid Ibrahim, some people have come up with this novel offering.
As if Zaid is able to open up a Third Way outside BN and Pakatan having exited PKR and the opposition pact.
To know things half way through is tremendously dangerous.
Malaysia's political process remains at the stage of stacking up the Second Way. Pakatan's Way is still in its infancy, tortuous and risky.
Before the bipartisan system can even take its form completely, we are dreaming of a tripartisan way. This puts up far ahead of some of the most developed democracies on this planet.
The bipartisan system of Britain has been in existence for well over two centuries with the Labour and Conservative parties taking turns to run the country and not the slightest chance for a Third Force to emerge, until this year when the Liberal Democrats was pampered with a chance to form a coalition government with the Tories.
As for the United States, the Democrats and the Republicans have been sharing the power since the dawn of nationhood. While the Tea Party does have some influences, it is nothing more than a spectre appended to the rightists in the Republican Party, and is still a long way from the so-called the Third Way.
In the context of Malaysia today, Barisan Nasional is the First Way, the north-south expressway that runs all the way from Bukit Kayu Hitam to Johor Bahru, always smooth-running except some peak hours during the festive seasons. Basically it will decide how much toll it wants to collect, and anyone unhappy with it can choose to inch his way down the aged trunk road.
Pakatan Rakyat is the Second Way, an alternative route teeming with potholes, unclear signages and dubious directions.
Running on this road will put your tyres at risk, or yourself for getting lost. Indeed, the road is in urgent need of repair, but that will take a lot of time and effort.
The Pakatan concept needs some integration, and the organisation needs to be expanded to places outside major urban areas. It also needs to be able to lift itself from merely frying up issues and waiting for the BN to commit serious blunders that it can exploit.
This is road upgrading works, and Zaid has been tasked with a mission similar to that of a senior roadwork engineer. Malaysians look to him to upgrade the alternative road into a full-fledged expressway on par with the NSE.
Weirdly, this senior engineer fails to upgrade the Second Way, but instead digs up a few more holes and brings down a few more signages to complicate the project further.
Then he says this is not his way, and he calls it quits.
He wants to set up a new party, a Third Force and Third Way.
The real Third Way is not a child's play. Perhaps I should suggest that he read The Third Way by British politico-sociologist Anthony Giddens.
The book talks about the construction of new mentality surrounding the core values of cooperation and assimilation in a bid to lead the society towards democracy, equality and peaceful co-existence and fulfill the true aspirations of a civic society.
The Third Way should be one of renewed ideology, not a path for disgruntled opportunistic politicians!  -- Sin Chew Daily
Translated into Chinese at: http://ccliew.blogspot.com/2010/11/blog-post_1551.html
-----------------------------------------------------------------------
Mereka menyalahkan Zaid kerana mengancam masa depan pakatan pembangkang. Mereka bahkan mencaci Malaysia Today kerana 'menggugat' Pakatan Rakyat. Tapi 'mereka' inilah yang membakar jambatan dan membuatkan mustahil bagi Zaid menimbangkan kembali keputusannya.

NO HOLDS BARRED

Raja Petra Kamarudin
Translated by Si Manis Amni

Saya selalu menyiarkan artikel oleh Tay Tian Yan (diterjemahkan oleh Dominic Loh) di Malaysia Today. Ini adalah kali pertama saya menjawab artikel mereka.

Pertama sekali, mengapa mereka mengaitkan Angkatan Ketiga (Third Force) dengan Zaid Ibrahim? Perbincangan mengenai Angkatan Ketiga muncul lama sebelum wujudnya petunjuk tentang ke kecohan dalam PKR ataupun petunjuk bahawa bahawa Zaid akan meninggalkan parti. Tiba-tiba, semua orang mengatakan bahawa Zaid adalah pemimpin Angkatan Ketiga yang disebut-sebut itu. Saya kata 'disebut-sebut' kerana belum pun awan muncul, dah sibuk-sibuk nak keluar payung.
Adakah Angkatan Ketiga hanya suatu idea, sama seperti idea Kerajaan Perpaduan yang timbul tak lama selepas pilihanraya umum lepas, dan yang akhirnya tak menjadi kenyataan?
Ada beberapa orang dalam PKR yang berusaha menjadi orang tengah bagi mendesak kedua-dua puak untuk berdamai. Mereka cuba memujuk Zaid agar tidak meninggalkan parti dan sebaliknya, kekal dalam parti dan meneruskan perjuangannya dalam PKR dan Pakatan Rakyat.
Tetapi melihatkan cara Zaid dipersetankan, maka susahlah bagi kedua-dua puak untuk berdamai. Bolehkah Zaid bertenang dan menimbangkan kembali keputusannya? Melihatkan cara dia diperlakukan, saya tak fikir dia akan berbuat demikian. Lukanya takkan sembuh. Malah lukanya pasti bertambah parah dengan garam yang sedang dilumurkan padanya.
Mereka menyalahkan Zaid kerana mengancam masa depan pakatan pembangkang. Mereka bahkan mencaci Malaysia Today kerana 'menggugat' Pakatan Rakyat. Tapi 'mereka' inilah yang membakar jambatan dan membuatkan mustahil bagi Zaid menimbangkan kembali keputusannya.

Setelah mereka menempelaknya sebegitu rupa, Zaid memang tiada pilihan lain, kecuali kekal dengan keputusannya, walaupun terdapat usaha bagi memeterai 'perjanjian damai'.

Contohnya adalah artikel oleh Tay/Dominic ni. Penulisan mereka penuh dengan nada ejekan. Kalau mereka melakukan analisis politik, maka itu boleh diterima. Jika terdapat nada ejekan dalam kata-kata anda, maka jangan haraplah Zaid akan bertolak ansur.  
"Mengetahui mengenai sesuatu perkara secara tidak sepenuhnya adalah sangat berbahaya," kata Tay/Dominic. Kalau macam tu, saya boleh kata bahawa mereka pun dua kali lima. Kenapa mereka mengandaikan bahawa Zaid akan menubuhkan parti baru? Setahu saya, pada masa ini, Zaid tidak berniat untuk membentuk parti baru. Dia juga tidak mempunyai niat untuk menyertai parti lain. Tetapi jika anda terus mendesak dan mengejeknya, maka mungkin saja dia akan melakukannya. Saya takkan menyalahkannya kalau dia berbuat begitu. Kalau anda mengejek saya, saya pun akan membalas dengan cara yang paling buruk yang mampu saya lakukan.

Saya rasa orang seperti Tay/Dominic yang berpihak kepada satu puak dalam PKR sangat senang dengan konflik yang berlak u dalam PKR pada masa ini. Mereka gembira benar kerana Zaid akan meninggalkan parti. Bahkan mereka mungkin sedar bahawa usaha sedang dijalankan bagi memujuk kedua-dua puak untuk berdamai dan memujuk Zaid agar tidak meninggalkan parti.

Mungkin inilah sebabnya Zaid sedang dipersetankan. Mungkin inilah Kuda Trojan yang sebenar. Mereka bimbang bahawa perjanjian damai akan disepakati dan keamanan sekali lagi akan menghiasi PKR. Disebabkan itulah mereka terus menyakitkan hati Zaid bagi memastikan dia makin marah dan tidak menimbangkan kembali keputusannya.
Bertepuk sebelah tangan tidak menjadi. Kita hanya menumpukan pada kesalahan-kesalahan yang pernah dilakukan oleh Zaid. Ya, saya mengaku bahawa dia ada melakukan kesilapan.Tapi adakah ini bermakna bahawa hanya Zaid yang telah melakukan kesalahan dan pihak yang satu lagi adalah mulia dan merupakan penjelmaan semula Mother Teresa?

Apabila saya mempertahankan Zaid, saya dituduh menyebelahinya. Tapi sebenarnya, saya juga sudah 12 tahun mempertahankan Anwar (iaitu berkenaan dengan kes liwatnya). Adakah ini bermakna bahawa saya juga menyebelahi Anwar? Macam mana pula saya mampu menyebelahi kedua-dua belah pihak yang sedang berbalah?
Zaid dan Azmin pun sedang bertelagah. Tapi saya mempertahankan Zaid dan juga menghantar mesej tahniah kepada Azmin. Jadi, perlukah saya menghantar mesej maki-makian kepada Azmin untuk 'membuktikan' bahawa saya adalah orang Zaid?

Saya tidak mengejek Azmin. Saya menghantar mesej-mesej yang baik kepadanya. Jadi, mengapa kita harus kita mengejek Zaid? Adakah itu dilakukan untuk memastikan bahawa dia membenci PKR dan melakukan sebanyak mungkin kerosakan pada PKR semampunya?
Ramai orang yang cuba berlagak matang. Apabila saya pergi minum teh bersama dengan Tun Dr Mahathir Mohamad, saya tak habis-habis dikutuk. Sebenarnya, masalah yang kini dialami PKR dicetuskan oleh mereka yang kononnya penyokong kuat PKR; mereka yang suka mencerca orang lain. Mungkin inilah caranya bagi si kecil berangan-angan bahawa mereka adalah tokoh besar.
Bagi saya, Zaid terpaksa kekal dengan keputusannya. Usaha bagi mengantarakan konflik ini dan memujuk Zaid agar bertenang dan menimbangkan semula pendiriannya akan gagal. Puncanya adalah gelagat Kuda Trojan yang menyamar sebagai penyokong kuat parti.

Adakah mereka benar-benar ingin masalah ini diselesaikan ataupun mereka suka melihat konflik melanda PKR?
Macam ni mampus lah PKR. Hancur!
Comments
(0)
Write comment