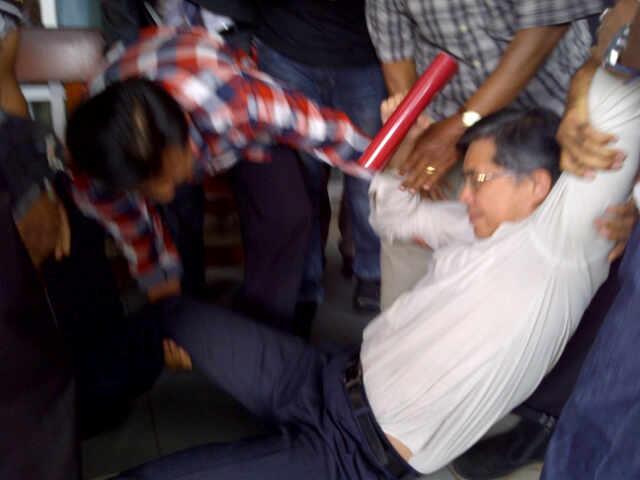 (New York Times) - The Malaysian government began a crackdown on political opponents on Thursday, arresting three government critics, including a prominent member of Parliament, and charging a student activist with sedition.
The arrests come two and a half weeks after elections that showed the governing party, which has been in power since independence from Britain in 1957, losing support from broad portions of the electorate.
The crackdown may be an attempt to pre-empt a demonstration planned for Saturday to protest accusations of fraud in the election, analysts said.
The opposition, which is led by a former deputy prime minister, Anwar Ibrahim, won the popular vote in the May 5 election but failed to take control of Parliament because of a lopsided electoral system that gives a stronger voice to rural areas, where the governing party is strongest.
Mr. Anwar says the election victory was fraudulent and has been leading rallies across the country since the election results were announced; the demonstration on Saturday is being organized by a coalition of several dozen civic organizations.
The member of Parliament arrested on Thursday, Tian Chua, is Mr. Anwar's deputy in a multicultural party that is challenging the dominance of the single-race United Malays National Organization.
Mr. Chua, who won re-election to Parliament May 5, posted on Twitter as he was being arrested Thursday, "No dictators could ever repress the rise of people's power." He said a police officer told him that he was being charged with sedition.
The two other people arrested are Haris Ibrahim, who leads an antigovernment group, and Tamrin Ghafar, the son of a former deputy prime minister who is a member of an Islamic party that is allied with Mr. Anwar. In addition, Adam Adli, the student activist, was charged with sedition on Thursday and released.
The Malaysian government, which has begun numerous crackdowns against dissidents during its decades in power, issued a statement late Thursday calling the arrests "a matter for the police."
"The detentions came after the police received numerous reports against the defendants by members of the public," the statement said. "In such circumstances the police are required to investigate and are following due and proper process."
Read more at: http://www.nytimes.com/2013/05/24/world/asia/malaysian-opposition-figures-are-detained.html?_r=3&