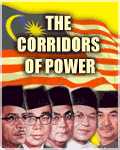 Yesterday, it was confirmed that Shafee will be acting as the prosecutor in the government's appeal against the court ruling that found Anwar not guilt of sodomy earlier this year. Shafee says I slandered him. The court confirms that this is true. But then what I alleged five years ago has finally come true.
THE CORRIDORS OF POWER
Raja Petra Kamarudin
Five years ago, in 2008, Razak Baginda's lawyer, Muhammad Shafee Abdullah, sued me for allegedly slandering him. This was in relation to three articles I wrote about him accusing him of being the mastermind behind the sodomy (a.k.a. Sodomy 2) allegation against Anwar Ibrahim.
I also said that Shafee not only fixed up Anwar on sham charges based on fabricated evidence but I also said that he was going to take over as the prosecutor in this case.
In 2010, Shafee's case against me went to trial and in 2011 the court ruled in Shafee's favour and awarded him damages.
Hence the court found me guilty of spreading false stories.
Yesterday, it was confirmed that Shafee will be acting as the prosecutor in the government's appeal against the court ruling that found Anwar not guilt of sodomy earlier this year.
Shafee says I slandered him. The court confirms that this is true. But then what I alleged five years ago has finally come true.
Remember that I boasted many times that all my so-called 'lies' normally gets proven to be not lies after all, even if it sometimes takes five years or ten years to be proven.
Well, today it has been proven that my lies are actually the gospel while my boasts are actually prophecies.
Hmm….does that make me sound like the Prophet of Truth? No lah, I just want to say, "I told you so!"
**************************************************
Mohd Shafee vs Raja Petra: Courts sets Aug 26 for defamation suit
(The Star, 20 July 2010) - The High Court has fixed Aug 26 for the case management for the defamation suit filed by lawyer Datuk Muhammad Shafee Abdullah against Malaysia Today editor Raja Petra Kamarudin.
Deputy registrar Wan Nursalina Wan Abdullah fixed the date in her chambers at the court complex here Tuesday.
She ordered the plaintiff to file in the agreed bundle of documents, issues to be tried and agreed facts by the date.
Lawyer J. Chandra acted for Raja Petra and mentioned on behalf of Muhammad Shafee.
Muhammad Shafee is suing Raja Petra over three alleged defamatory articles published on Aug 6, 7 and 11, 2008 on the Malaysia Today website.
On Aug 15, 2008, the press reported a commotion that broke out in a magistrates court here when Muhammad Shafee tried to serve a court order on Raja Petra asking him to remove three alleged defamatory articles against him from the Malaysia Today website.
On that day, Raja Petra, who is currently believed to be hiding in London, flatly turned down the service of the order.
On Sept 2, 2008, Raja Petra succeeded in getting a court order that stopped Muhammad Shafee from acting for himself in the defamation suit he filed against the editor.
The High Court later issued an injunction restraining Raja Petra, whether by himself, his agents or otherwise, from allowing articles, journals, letters, comments, posts and statements that are defamatory of Muhammad Shafee, accessible over the Internet.
In a statement of defence filed Nov 25, 2008, Raja Petra contended that he would adduce detailed evidence over the matter during the trial.
In applying for the suit to be dismissed with costs awarded to him, Raja Petra contended that Shafee's action is wholly misconceived and untenable in law and/or is an abuse of the process of court.
Raja Petra denied that the three articles which were published on Malaysia Today were false, malicious or defamatory of the lawyer.
Raja Petra also denied having in his possession of facts pertaining to the identities and numbers of readers/ visitors/ commentors on his website.
**************************************************
'Raja Petra liable over articles on Shafee Abdullah'
The High Court has ruled that a senior lawyer has been defamed in articles posted on Malaysia Today.
(FMT, 10 February 2011) - The High Court today held blogger Raja Petra Kamarudin liable over three articles posted on his Malaysia Today website three years ago and ruled that they were defamatory of senior lawyer Muhammad Shafee Abdullah.
Justice John Louis O'Hara said words of a defamatory nature had been used in the articles as well as in the comments made by the public on the articles.
He said the quantum of damages would be assessed by a deputy registrar at a later date, and granted legal costs of RM5,000 to Muhammad Shafee's counsel S Ravindran.
O'Hara pointed out that Raja Petra had been declared a bankrupt, but said it was not his concern whether Ravindran would be able to secure the money from the blogger.
Raja Petra's counsel J Chandra had objected to Ravindran's suggestion that the costs be set at RM10,000, arguing that his client was a bankrupt and not in the country and that the parties should bear their own costs as decided by the Court of Appeal on a matter related to the suit.
Muhammad Shafee made an application on Jan 26 under Order 14A of the Rules of the High Court 1980 for the disposal of the suit based on a point of law without going for a full trial, claiming that there were defamatory words in the three articles posted on the Malaysia Today website.
He had filed the suit against Raja Petra, 58, in August 2008 for posting on Aug 6, 7 and 11 of that year the three articles titled "Shafee Abdullah: Sodomologist Extraordinaire", "Money, Power and Sex: What Motivates Man" and "The Real Dalang Behind The Anwar Sodomy Allegation" on the website, which he claimed had defamed him.
On Aug 13, 2008, Muhammad Shafee obtained an ex-parte injunction from the High Court ordering Raja Petra to remove from the website the three articles as well as all the comments related to them.
In a statement of defence filed on Nov 25, 2008, Raja Petra denied that the three articles were false, malicious or defamatory of the lawyer.
Muhammad Shafee, when contacted over the judgment, said the documentation filed in defence by Raja Petra via his counsel was "no defence at all" and that his claim against the allegation had been proven right.
**************************************************
Shafee: Representing against Anwar is a public service
(The Edge, 22 July 2013) - The Court of Appeal has postponed the appeal against opposition leader Datuk Seri Anwar Ibrahim's acquittal on a sodomy charge to a later date.
The three-member bench comprising Justices Datuk Ramly Ali, Datuk Tengku Maimun Tuan Mat and Datuk Mohd Zawawi Salleh agreed to adjourn the case because the defence's lead counsel Karpal Singh has been hospitalised since last Friday.
Ramkarpal Singh, who appeared in place of his father, also raised an objection against the appointment of Datuk Seri Muhammad Shafee Abdullah as the lead counsel for the prosecution.
Shafee was given a fiat (authority) and appointed by the attorney-general to argue the case on behalf of the prosecution on July 11.
Ramly, however, told Ramkarpal to raise the matter when the proceedings start.  Case management has been fixed for Aug 1 when trial dates would be decided.
Outside the courtroom, Shafee told reporters that he was confident about presenting his case within three hours.
"As far I am concerned, I will finish with my appeal within two to three hours. That is it. We can finish in the morning," he said.
He also confirmed that the contract with the Attorney-General's (AG) Chambers was only finalised last Friday, stressing that he had taken the contract not for the money but as a public service.
"That is very officious in terms of remuneration. It is one of those public services when you are called upon to do. I will do it.
"Just as I am being appointed for other positions for law, I will do it even there is no emolument. I consider this a public service," he said.
Shafee denied that his appointment was controversial and pointed out that the AG took the same step in the Teoh Beng Hock death-in-custody case.
He said the AG has the right to appoint him under Article 145 (3) of the Federal Constitution.
"Why is it controversial? Appointment of private lawyers holding on to a fiat as an authority from the AG… Why me? The question is, why not me? What political motive? I am not even a politician. I am not a member of any political party. Many people do not know but I am a member of no political party.
"I'll be insulted if I am appointed for political purposes. I would like to think that I am appointed because I am capable," he said.
Shafee continued to brush aside allegations that his appointment for the case was a conflict of interest.
"Conflict of interest in law is conflict of interest within the case. It is not conflict of interest in general. That does not make sense.
"I can only be conflict of interest if assuming I have acted for Anwar before in a case that has got relationship with the current case. That is the true conflict of interest. Otherwise, there is no conflict of interest," he said.
Shafee added the prosecution has a very strong case and that the appeal "is very narrow and focused."
"I find that the case for the appellant is a very strong case. I would like to believe that because the only reason for acquittal was apparently the issue of the exhibit being possibly tampered. I found no evidence of that. There was a total misinterpretation and I would like to put the record straight during the appeal," he said.
Last January, Anwar was acquitted and discharged of a charge of sodomising Saiful at a condominium unit in Bukit Damansara here on June 26, 2008.
Anwar faced his first sodomy charge in 1998 when he was sacked from cabinet and tried on corruption and sodomy charges.
He was found guilty in 2000 and sentenced to nine years in prison on both charges, but his conviction for sodomy was eventually overturned by the Federal Court.
**************************************************
An outsider playing the role of DPP is a dangerous precedent, says former AG
(TMI, 22 July 2013) - The appointment of Umno lawyer Datuk Seri Muhammad Shafee Abdullah as ad-hoc deputy public prosecutor in the Sodomy II appeal is a dangerous precedent which gives the impression that the Attorney-General's Chambers is incompetent, said former AG Tan Sri Abu Talib Othman.
Abu Talib said there are many experienced officers, including the solicitor-general, to conduct the appeal which he considers a "straight forward case".
"Why take an outsider?" he told The Malaysian Insider, adding that the exercise also incurred public funds.
He believes that the current crop of deputy public prosecutors had conducted more difficult cases.
Abu Talib questioned whether Shafee's appointment is an admission that the current officers in the chambers are incompetent.
"This is what the public will perceive," said Abu Talib who was AG from 1980 to 1993.
Datuk Seri Anwar Ibrahim's legal team will file a formal application to disqualify Shafee from representing the public prosecutor in the sodomy appeal.
Abu Talib pointed out that the issue was whether there was penetration and the prosecution had established a prima facie case against Anwar which led to the High Court ordering him to enter his defence.
"The trial judge had acquitted Anwar after calling for his defence because Anwar's expert witnesses had created a doubt in the prosecution's case.
"In my mind it is easier to conduct the appeal compared to the trial," he added.
However, Abu Talib said Attorney-General Tan Sri Abdul Gani Patail had correctly followed the provision in the constitution and the Criminal Procedure Code to appoint Shafee.
"But the question is whether this appointment is fair and suitable," he said.
The prosecution is appealing to overturn Anwar's acquittal by the High Court and eyebrows were raised in the Court of Appeal when Shafee informed the bench he was appointed by Gani to lead the prosecution team.
Shafee, a former deputy public prosecutor before he went into private practice, told reporters later he received a letter from Gani on July 11 to lead the team.
"My appointment is in accordance with the Federal Constitution and the Criminal Procedure Code. The AG is the only person, and not even the prime minister, who can direct me on this," he said, adding that his appointment should not be viewed as a political issue.
Anwar has said the appointment was clear prejudice as Shafee is a person who has cast aspersions against him previously.
"He is someone heavily tainted and has a lot to answer. He has been known to cast aspersions against me, within and outside, for whatever dubious reasons," the opposition leader told reporters.
PKR vice-president N. Surendran pointed out that Shafee is currently acting as counsel in numerous civil cases for key Umno leaders against Anwar.
He also said that last year it was revealed that Shafee had written a letter to the court stating that he was on a special assignment overseas on behalf of Prime Minister Datuk Seri Najib Razak and his wife Datin Seri Rosmah Mansor.
"How can the public have any confidence that the prosecution is being conducted fairly when the lead prosecutor Shafee is representing Najib, Rosmah and other top Umno leaders?" Surendran asked.
**************************************************
AG defends picking Shafee as lead prosecutor in Sodomy II appeal
(TMI, 22 July 2013) - Attorney-General Tan Sri Abdul Gani Patail defended his move to appoint Umno lawyer Datuk Seri Muhammad Shafee Abdullah as the lead prosecutor in the appeal against the acquittal of Datuk Seri Anwar Ibrahim on a sodomy charge.
Gani said he decided to bring in an outsider as the chambers had been accused of being biased and playing to the tune of the government.
He urged the public to view Shafee's appointment objectively as this was not the first time such a move was done.
He then gave the example of when he appointed lawyer Datuk Tan Hock Chuan as conducting officer in the Teoh Beng Hock inquest.
Gani also pointed out that the former lead prosecutor in Anwar's trial, Datuk Mohd Yusof Zainal Abiden, had gone on early retirement and he had represented the opposition too.
"I see no good reason why we should not appoint Shafee," he said in a text message reply to The Malaysian Insider from London.
Yusof, also former solicitor-general, was in Anwar's legal team in a separate case pertaining to a Bersih 3.0-related charge. Yusof had said that he was a free agent to represent anyone after retiring from the government.
Gani further said  Anwar's lead counsel Karpal Singh would not be defending his client if the sodomy matter was a simple case.
"We appreciate his role too in terms of justice," he said.
Ramkarpal Singh, a member of Anwar's legal team , gave notice to the Court of Appeal early today that the defence objected to Shafee appearing for the government.
Karpal later in the day stated that an application, together with an affidavit by Anwar, would be submitted to recuse Shafee.
Former Attorney-General Tan Sri Abu Talib othman said Shafee's appointment as ad-hoc deputy public prosecutor sets a dangerous precedent as it would be seen that the chambers was incompetent.
He questioned why an outsider was selected when the chambers had experienced officers to conduct the appeal.