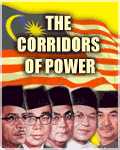 The Puritans wanted England cleansed of Catholics, who they regarded as deviant heretics who should be put to death. Amongst others they also wanted Christmas banned and shops ordered by law to stay open on 25th December. Parliament was also not happy that Mass was being said in the Royal Court since Mass or Eucharist is the central act of worship for the Roman Catholic Church.
THE CORRIDORS OF POWER
Raja Petra Kamarudin
It is interesting to note that my article titled 'The best argument against democracy is a five-minute conversation with the average voter' attracted 167 comments at the time I am writing this. And it would have been more than 200 had I not deleted all those copy-and-paste comments of verses from the Bible.
And do you know why it attracted so many comments? Well, because most readers took it as an article regarding religion and whenever we talk about religion all the loonies and weirdoes would crawl out of the woodwork to argue and defend their God.
It never fails each and every time. However, what they fail to see is that I am talking about history, not theology. But these people just cannot grasp the spirit of my article.
And these are the same people who try to interpret what I say and do and usually would misinterpret it and take the opposite of what I said (remember the TV3 interview in Perth that I did?) And these are the 'thinkers' of the Malaysian public who will be voting for the 'right' government come the next general election in the next month or two.
Heaven help Malaysia when we put the lunatics in charge of the asylum.
I have noticed that most Malaysian Christians (at least those who post comments in Malaysia Today) normally argue that there is a distinction between the Old and New Testaments and that Christians follow the New and not the Old Testament.
In other words, the New Testament has abrogated the Old Testament. But this is not what I find in England, strangely enough.
Anyway, let me emphasis, yet again, that today I am talking about history, not theology. And I will try to equate the history of Christianity in England (mainly the 1500-1600 period: which was a period of religious turmoil) with that of Islam so that you can better understand how both religions went down the same historical path.
You see, in Islam, there are those who interpret the Qur'an literally and there are those who take it as allegorical. Then there are those who accept the 'Scriptures' (in this case the Hadith) as authentic and those who reject them completely. Then there are those who accept some Hadith but not all while others accept different versions of Hadith.
Then, the most puzzling part of all (to those not schooled in the Qur'an, that is) would be the history of the Qur'an verses and which verse abrogates which verse. Then again, there are those who reject the 'science' of abrogation and argue that all verses still stand and none have been abrogated.
And that is why when non-Muslims copy-and-paste verses of the Qur'an and then try to interpret it the way they see it (meaning literally) they are terribly off the mark. Which verses, if any, are taken as literal and which ones as allegorical? Even Muslims are divided and sometimes confused on the matter so what more the non-Muslims who think they know what they are reading but actually do not know a thing.
Now, Christianity, too, suffers from this same ailment (such as literal versus allegorical). And that was what happened over more than 150 years from the early 1500s to the late 1600s in England. And because of this, England erupted into a Civil War from 1642 to 1651 and which resulted in the first time in English history that a monarch lost his head.
To study the history of the English Civil War you need to also understand the reigns of Henry VIII, Mary I and Elizabeth I, a prelude to the reign of Charles I.
We all know that Henry broke from Rome and declared himself the head of the church, the Church of England. Soon after that he purged England of Catholics. Cathedrals and churches were burned to the ground, Catholics and their priests were executed, and all symbols of Catholicism (even the crucifix) were destroyed.
When Henry and then Edward died, Mary took the throne and, being a Catholic, she reversed what her father did. This time, Protestant cathedrals and churches were burned plus Protestants and their priests were killed (even burned alive). In fact, she did worse than what her father did and for that she earned the title of Bloody Mary.
Then Elizabeth took the throne and she, in turn, reversed what Mary did. This time Catholics were put to death and their houses of worship and symbols destroyed. They also passed a new law that prohibited Catholics from sitting on the throne of England.
Now, we come to the reign of Charles I.
Charles was not a Roman Catholic but he believed that the Church of England was more Catholic than the Church of Rome itself. And there were many Catholics within Charles' own family -- such as his mother, Anne of Denmark; his wife, Henrietta Maria; etc. In fact, later on, his eldest son Charles became a Roman Catholic on his deathbed while James II, who also became a Roman Catholic, lost his throne because of that.
Hence England takes this 'No Catholic' rule very seriously.
The problem with Charles was that he was surrounded by those suspected of being 'closet' Catholics plus known Catholics. Hence Parliament wanted Charles to remove his advisers whom many Members of Parliament suspected were misleading Charles and giving him the wrong advice in favour of Catholicism.
Parliament, in fact, even forced Charles to sign death warrants for some of his close friends and although at first Charles resisted, he later had no choice but to sign these documents while crying as he did so.
The quarrel between Charles and Parliament was about two issues. One was regarding money (Charles bypassed Parliament when he imposed new taxes: in fact, Charles suspended Parliament five times during his rule) and the other was regarding religion.
The Puritans wanted England cleansed of Catholics, who they regarded as deviant heretics who should be put to death. Amongst others they also wanted Christmas banned and shops ordered by law to stay open on 25th December. Parliament was also not happy that Mass was being said in the Royal Court since Mass or Eucharist is the central act of worship for the Roman Catholic Church.
Parliament suspected that there was a secret agenda to turn England into a Catholic state. Hence the Catholics needed to be destroyed and England retained as a Secular State with separation of State and Church. Charles, however, refused because he wanted to retain Episcopacy.
And with that the Civil War broke out with the Puritans on one side and the Royalists on the other. Later, after Charles was defeated, a bloody war broke out between Parliament and the Catholics in Ireland, so bloody and brutal that until today the Irish have never forgotten or forgiven the English.
Charles was eventually pronounced a traitor and executed. The English Catholic Church, however, has canonised Charles as a martyr, more or less confirming that Charles was Catholic 'at heart'.
So you see, not all Christians regard Catholics as real Christians (just like not all Muslims regard Wahhabis and Shias as real Muslims). The Catholics even up to these modern times are viewed as deviant heretics who bring affront to the religion of Christ.
No, I am not talking about theology here. I am talking about the history of England (at least of 500 years ago) and how many in England view the Catholics as sesat (misguided) Christians.
TIMELINE
Henry VIII: 21 April 1509 to 28 January 1547
Edward VI: 28 January 1547 to 6 July 1553
Mary I: 19 Jul 1553 to 17 November 1558 (a.k.a. Bloody Mary)
Elizabeth I:  17 November 1558 to 24 March 1603 (a.k.a. the Virgin Queen)
James I: to 24 March 1603 to 27 March 1625
Charles I: 27 March 1625 to 30 January 1649
England then temporarily became a Republic upon the death (execution) of Charles I until Charles II took the throne on 29 May 1660.