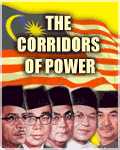 Of late, Deepak has, again, been doing a series of interviews and has been issuing press release after press release contradicting everything he said two years ago. The only thing he did not say was, "Raja Petra Kamarudin did not lie two years ago, as I had alleged. Instead, I was the one who lied. Raja Petra, in fact, told the truth."
THE CORRIDORS OF POWER
Raja Petra Kamarudin
Two years ago, Deepak Jaikishan did a series of interviews and issued a few press releases calling me a liar and alleging that he had nothing to do with private investigator Perumal Balasubramaniam and/or the First Family. Deepak then challenged me to return to Malaysia to repeat those allegations that I made against him, if I dare.
Of late, Deepak has, again, been doing a series of interviews and has been issuing press release after press release contradicting everything he said two years ago. The only thing he did not say was, "Raja Petra Kamarudin did not lie two years ago, as I had alleged. Instead, I was the one who lied. Raja Petra, in fact, told the truth."
So now Deepak is saying the same thing as what I had said two years ago. But two years ago the pro-opposition alternative media carried Deepak's interviews and press releases denying what I had said and calling me a liar. Today, Deepak has done a U-turn and has contradicted everything he said two years ago while more or less confirming what I had said.
But what does the opposition do? Instead of chiding Deepak for slandering me, they adopt Deepak as their poster boy. Deepak is now the opposition's new mascot to help them march into Putrajaya.
No doubt the opposition seeks only one thing: to grab power. All politicians want to grab power -- that is the only thing they are interested in. And they will do anything just to get into power -- even sell their own mother if necessary.
But we are fighting for change. We are talking about reforms. We are propagating politik baru (new politics). Hence should we not then adopt certain codes of ethics in our pursuit of power?
Barisan Nasional is not fighting for change. Umno is not talking about reforms or propagating politik baru. They just want to retain 'old values'. Hence I do not really care what those in government say and do. I expect them to say and do the wrong thing. That is the nature of the beast.
But the opposition is supposed to be different. The opposition says it is offering us something different and something new. In that case why is the opposition playing the same game as Barisan Nasional?
The opposition and the pro-opposition alternative media are very quick to jump onto the bandwagon and repeat, again and again, all the negative things they have so say about people who criticise the opposition. But when those allegations are later proven false, they maintain a deafening silence and pretend all this did not happen.
There are two types of lies. One type of lie is to tell an untruth. The other type of lie is to hide the truth.
The government uses one method while the opposition uses the other. At the end of the day, it is merely a difference between the glass being half-full and the glass being half-empty. The Malays call this dua kali lima.
I do not expect anything from those who walk in the corridors of power. In fact, I expect the worst from them. But for the same to come from the opposition is intolerable because the opposition is talking about raising the bar. Hence let us see the opposition raise that bar.
Barisan Nasional, understandably, is not capable of doing the right thing. That is to be expected. Pakatan Rakyat, however, should be aiming to uphold the truth. However, if Pakatan Rakyat also plays the same lying game as Barisan Nasional, is this not what the English call old wine in a new bottle?
I expect when the US financed and armed Saddam Hussein to fight Iran and created the Taliban to fight Russia, and while Malaysia armed and trained the Muslim Moro to fight the Christians, it is also kosher for Pakatan Rakyat to work with slime-balls and scumbags just to win the election.
And what else would you label a person like Deepak Jaikishan who admits that he is up in arms against the First Family because he is not going to make the hundreds of millions after all that he had expected to make -- money that, in the first place, belongs to the taxpayers?
*********************************************
Is Deepak's quest real, or political?
Jimmy Chia, The Malaysian Insider
Businessman Deepak Jaikishan seems to have a major grudge against the government, Datuk Seri Najib Razak and his wife, Datin Seri Rosmah Mansor.
Apart from his revelations and an e-book, the carpet dealer is now suing the prime minister's wife for RM 3 billion. That is an astronomical sum, to say the least.
But if his cause is real and he is an aggrieved party in a business tiff, why consort with the opposition in his case against the government?
If this is a business dispute, why bring in the politicians? Why write an open letter to Tun Dr Mahathir Mohamad and say he is a nationalist like the former prime minister?
That appears to be a political move. That appears to be part of a move to unseat the prime minister by creating stories about him and his family, rather than a straight-forward business partnership gone sour.
Deepak has already admitted he has done business deals for eight years and profited from it. Now that they have fallen out, he wants to sue them, and work with the opposition to bring Najib down.
Can he please make up his mind? Is this about business or about politics? One can't pretend to have an attack of the conscience after working together for so long.
If the partnership was still good, would he have come out and said what he has revealed these past few months? Or is this just another case of a disgruntled businessman who is no longer in the circle of power?
Deepak has shown an insight into a different world but his actions now reveal a bitter man who is seeking to bring down the people he used to do business with, one way or another. To the extent of using whatever means, legal or political, to get his way.
You're no saint, Deepak. You would do your cause better if you crusade alone rather than get in bed with politicians again.
*********************************************
"May I suggest that you (Najib) as our 'sitting PM' to explain the truth on SD2 to the Malaysian public and not just sit on the PM's chair like a 'sitting duck'," Deepak said today.
"What is most important is that both you and your wife come forward now to specifically reveal the truth to the entire Malaysian public on why she (Rosmah) instructed me (to get Balasubramaniam) to reverse the SD2," he added.
http://www.freemalaysiatoday.com/category/nation/2013/01/18/deepak-come-clean-on-altantuya-najib/
*********************************************
Deepak, who once said he was close enough to Rosmah to call her his "big sister," has continued to cause embarrassment to the prime minister and his wife, who so far have maintained an awkward silence in the face of his charges.
He has vowed to detail - or re-detail, since he has already made the information public to a flock of internet sites over recent weeks - RM3 million in payments to a private investigator, Perumal Balasubramaniam, in 2008 in an effort to shut up the investigator.
http://asiasentinel.com/index.php?option=com_content&task=view&id=5079&Itemid=178
*********************************************
In the video he allegedly links PKR de facto leader Anwar Ibrahim and his fellow counterparts such as lawyer R Sivarasa, PKR vice president N Surendran and Anwar's daughter Nurul Izzah to his decision to 'tell the truth'.
In the video, he allegedly mentions that Anwar was the one who offered legal help to him but 'obviously' expected a favour in return. Anwar has however denied all links to Deepak while Sivarasa and Surendran are now Deepak's lawyers.
Sivarasa claims he warned Anwar of the risks before taking up Deepak's case. Anwar it appears saw no adverse political implications.
http://www.freemalaysiatoday.com/category/nation/2012/12/09/who-is-deepak-jaikishan/
*********************************************
Deepak and his allies are expected to inject an oil and gas project worth as much as US$500 million (RM1.51 billion) into Envair. The project is believed to be located in Eastern Europe, and the Envair board expected to announce a name change for the company to Raya Energy Bhd soon.
Famous for his denial of being Rosmah's 'toy boy', Deepak first made the headlines when he was accused of having bribed private investigator P Balasubramaniam into reneging on an explosive statutory declaration implicating both Najib and Rosmah in the 2006 Altantuya Shaaribuu murder case.
Against such a controversial background, Deepak will have to work extra hard to prove his business integrity and reliability to established and serious investors. To the retail crowd, who see him as Rosmah's proxy, his larger-than-life persona, due to the Altantuya connection, actually makes him Pied Piper of sorts. But win or lose, at the end of the day, Envair's profitability will hinge on the oil contracts it receives, most of which can reasonably be expected to come from Petronas.
It must be stated that Deepak has previously refuted that his Envair dealings were connected to the Najibs. "I want to make it clear. I stand on my own two feet. Please keep me out from your vicious cycle," Deepak told Malaysia Chronicle in December.
http://www.bonology.com/2012/03/business-is-now-where-action-is-rosmah.html
*********************************************
Controversial carpet dealer Deepak Jaikishan failed to turn up at the Malaysian Anti-Corruption Agency (MACC) here for the fourth time today despite confirming that he would attend the scheduled meeting earlier.
MACC Investigation Division director, Datuk Mustafar Ali, said Deepak had agreed to appear at the MACC headquarters to give his statement regarding the second Statutory Declaration (SD)  by private investigator P. Balasubramaniam about  the murder of Altantuya Shaariibuu but he seems to be "making empty promises".
http://news.abnxcess.com/2013/01/macc-stood-up-by-deepak-for-fourth-time/
*********************************************
Deepak had recently admitted that he helped to get Balasubramaniam, a private investigator, to repudiate his earlier statutory declaration on the matter, including finding two lawyers to draft the new statement.
The Bar Council is investigating the identity of lawyers and possible misconduct in the drafting of Balasubramaniam's second sworn statement about the 2006 murder of Mongolian Altantuya Shaariibuu.
A cloud of mystery has hung over the identity of the lawyer who drew up Balasubramaniam's second SD, dated a day after his first on July 3, 2008, regarding Altantuya's 2006 murder, for which two elite police commandos have been convicted and are facing death sentences.
http://www.themalaysianinsider.com/malaysia/article/deepak-says-will-reveal-all-on-balas-second-sd-to-macc-today
*********************************************
PKR today alleged that businessman Deepak Jaikishan spent about RM13 million in 2009 to purchase jewellery for Prime Minister Najib Tun Razak's wife, Rosmah Mansor.
Speaking at a press conference at the party headquarters here, PKR director of strategy Rafizi Ramli said that the purchases involved 19 different types of jewellery from Hong Kong, ranging from necklaces to rings and bracelets.
http://www.freemalaysiatoday.com/category/nation/2013/01/02/deepak-purchased-gems-worth-millions-for-rosmah/
*********************************************
Carpet dealer Deepak Jaikishan today claimed that Prime Minister Najib Tun Razak's wife Rosmah Mansor told him to look for private investigator P Balasubramaniam on the day the latter's statutory declaration (SD) was made public.
Revealing the identity of "the female friend" whom he mentioned at his recent press conferences, Deepak claimed that Rosmah called up many people for favours on the day Balasubramaniam disclosed his first SD, which linked Najib to the murder of Mongolian national Altantuyaa Shaariibuu.
http://www.freemalaysiatoday.com/category/nation/2012/12/12/rosmah-told-me-to-look-for-bala/
NOW WATCH THESE VIDEOS
SEE VIDEO ON YOUTUBE HERE: http://www.youtube.com/watch?v=xBTN7eHhLos
SEE VIDEO ON YOUTUBE HERE: http://www.youtube.com/watch?v=Sc5Yzc50Nnc
SEE VIDEO ON YOUTUBE HERE: http://www.youtube.com/watch?v=YzoLOmQ8whU
SEE VIDEO ON YOUTUBE HERE: http://www.youtube.com/watch?v=Q2o7lIVH1Dg
SEE VIDEO ON YOUTUBE HERE: http://www.youtube.com/watch?v=mIlZmm4JdjQ
SEE VIDEO ON YOUTUBE HERE: http://www.youtube.com/watch?v=QJaAcBA_E5g