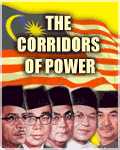 So Rafizi did not lie, and neither did Deepak. Rafizi admitted that Deepak did not give him any documents, as what Deepak claims. And that is because the documents came from Datuk Ravi, Anwar's Shaman, the man who decides on auspicious dates for Anwar to make his moves, although 16th September 2008 did not quite happen the way it was supposed to have gone.
THE CORRIDORS OF POWER
Raja Petra Kamarudin
Four years ago, on 1st January 2009, Malaysia Today published a story regarding Datuk Ravi Dharan, which was lifted from The Malaysian Insider. Unfortunately, not many people took much notice of this story. Hence we are publishing it again, which you can read below.
Now, recently, Rafizi Ramli spoke about a 'third party' giving him some documents regarding the alleged RM13 million jewellery that Deepak Jaikishan was supposed to have bought for First Lady Rosmah Mansor. Rafizi never named this third party, though, who is Datuk Ravi Dharan.
If you refer to Deepak's latest interview of a month ago, which is on Youtube (SEE HERE: http://www.youtube.com/watch?v=WWWgqWpYRIw), he mentioned that he is related to Datuk Ravi by marriage and was, in fact, introduced to Anwar Ibrahim through Datuk Ravi.
Datuk Ravi has been acting as the secret 'adviser' of Anwar since way back before the party was formed in 1999. In fact, the party headquarters at Phileo Damansara is owned by Datuk Ravi -- a man who made his millions through Samy Vellu in the days when he was a Barisan Nasional crony-businessman.
Datuk Ravi, who has a panel of bomohs (witch doctors) on his payroll, is in a way Anwar's 'spiritual adviser'. He advises Anwar on 'auspicious' dates (based on feedback from the bomohs). And one such auspicious date was 16th September 2008, the day Anwar was supposed to have taken over the federal government.
Within PKR circles Datuk Ravi is known as 'Shaman' and the PKR leaders know that Anwar will never embark on anything unless first armed with advise from Datuk Ravi's bomohs.
And what Rafizi refused to mention is that Datuk Ravi is the man who gave him the documents and hence what Deepak said is true -- that he never met Rafizi or gave him any documents.
Datuk Ravi is on the Malaysian government's 'watch list'. The Malaysian government suspects that Datuk Ravi, who has links to the very top in the Indonesian government, is instrumental in the 'bad blood' between the Indonesia and Malaysian governments that seems to have become worse of late.
So Rafizi did not lie, and neither did Deepak. Rafizi admitted that Deepak did not give him any documents, as what Deepak claims. And that is because the documents came from Datuk Ravi, Anwar's Shaman, the man who decides on auspicious dates for Anwar to make his moves, although 16th September 2008 did not quite happen the way it was supposed to have gone.
******************************************************
As Hindraf spat worsens, a new Anwar ally emerges
First published in Malaysia Today on 1st January 2009
When the bushfire of Indian dissatisfaction in the PKR threatened to turn into an inferno, party supremo Datuk Seri Anwar Ibrahim, holidaying in the Middle East, called from Dubai and urged a man he trusted to investigate what was really going on, how big it was and why it was happening.
Shadowy businessman Datuk Ravi Dharan (picture above), chairman of the Daya group of companies, has always been in the shadows of the PKR, serving only Anwar before and after the March 8 polls and during the run-up to the abortive September 16th plan to topple the Barisan Nasional government via defections.
He was close to Anwar when the latter was the finance minister and like other tycoons in Anwar's circle, he suffered after Anwar was sacked and jailed in 1998.
Ravi, 59, went abroad and soon settled down in Indonesia where he has interests in several areas, including coal mining in Kalimantan.
Raja Petra Kamarudin, Datuk Ravi and Gus Dur
However, unlike Anwar's other former friend Datuk K.S. Nallakaruppan, Ravi remained loyal to the former and was a big supporter — personally and financially — of the opposition leader during the March 8 general election campaign.
Anwar has now become worried that Indian dissatisfaction with his party, centred on the resignation of Kapar MP S. Manikavasagam as the party's Selangor deputy chief, will flare up, and he has sought out Ravi to quell the rebellion.
This will be the political coming out for Ravi who had always remained in the shadows.
It is significant that Anwar did not task any of the more senior party leaders such as deputy president Dr Syed Husin Ali, vice-president S. Sivarasa, seen as the nominal Indian head of the party, Selangor Menteri Besar Tan Sri Khalid Ibrahim, Selangor exco member Dr Xavier Jeyakumar or even PKR Padang Serai MP M. Gobalakrishnan.
"It was to Ravi that Anwar turned too," said a PKR insider, adding that Anwar was worried that a "hidden hand" was manipulating the "rebellion" and splitting the party especially in light of speculation reported in online news website Malaysiakini that PKR rebels together with Hindraf leader P. Uthayakumar and chairman P. Waythamoorthy were in alliance with MIC rebels to oust embattled MIC president Datuk Seri S. Samy Vellu.
Manikavasagam's relationship with Sivarasa and Dr Xavier and possibly Khalid, whom he has accused of betraying the people's trust by not fulfilling election promises, is now beyond repair, PKR insiders said.
Under these circumstances Anwar relied on Ravi as a trusted ally, in the same role once played by Nallakaruppan before their dramatic falling out, to help contain or extinguish the Manikavasagam fire.
Ravi attended a meeting of over 100 Indian supporters of Hindraf/Makkal Sakthi yesterday that discussed the problems raised by Manikavasagam and former PKR deputy secretary-general P. Jenapala.
Datuk Ravi settling the 'Indian problem'
Both Manikavasagam and Jenapala also attended the closed-door meeting.
"Ravi listened carefully, watched their body language and never uttered a single word," said a PKR supporter who attended the meeting.
Later at the press conference Ravi moved in to take charge, admitting there were differences over issues among the PKR leaders. "This is a democratic process, we meet, we discuss, tell our differences and we seek consensus," Ravi told The Malaysian Insider after the meeting.
"We all have one aim — to make Anwar prime minister — and until then we should remain committed and united," said Ravi.
Datuk Ravi's aim, to make Anwar Ibrahim the Prime Minister
He was worried PKR's political enemies would exploit the differences.
"We should not give them that opportunity," he told the people gathered. "I don't think there is a hidden hand behind the open airing of differences in PKR."
The meeting resolved that Manikavasagam and others would meet Anwar on his return and lay their unhappiness at his feet for a resolution of the differences.
Nevertheless the discontent is too fundamental to be resolved without upsetting the PKR's delicate racial balance.
The animosity between Manikavasagam and the rest of the PKR Indian leadership cannot be ignored.
The others — Sivarasa, Dr Xavier, Khalid and others — control Selangor PKR and are big names in the PKR setup although at the Makkal Sakthi grassroots level they are lightweights compared with Manikavasagam.
While Manikavasagam sees himself as a Makkal Sakthi founder, he accepts Uthayakumar and Waythamoorthy as his real mentors, and he also has the highest regards for Anwar.
It is left to Anwar to see how best to balance the demands of the big names in the PKR who are all for sacking Manikavasagam and satisfying the Makkal Sakthi grassroots who have adopted PKR as their new political home but want a bigger slice of the largesse.
What Ravi recommends to Anwar will play a crucial role in the balancing act.