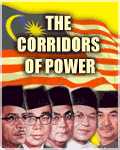 Tan Kay Hock, chairman of Johan Holdings Berhad and George Kent (M) Berhad, is Prime Minister Najib Tun Razak's golf buddy. Tan is also a member of the Iskandar Regional Development Authority (IRDA) and owns 49.59% of George Kent. Malayan United Industries Berhad, controlled by Khoo Kay Peng, owns a 9.3% stake in George Kent and a 7% stake in Johan Holdings.
THE CORRIDORS OF POWER
Raja Petra Kamarudin
George Kent-led consortium tipped to win Ampang LRT job
(Business Times) - A consortium led by George Kent Bhd is now tipped to win the systems contract worth RM960 million for the Ampang light rail transit (LRT) line extension project.
Sources with knowledge on the matter said the winning bidder for the job is expected to be announced by the government within the next few days.
Other members of the George Kent consortium include China Railway Construction Corp and Tewet GmbH, a project management consultant firm.
George Kent was established in 1936 and is a leader in mechanical and electrical engineering. For fiscal 2011, George Kent posted a pre-tax profit of RM26.2 million on revenue of RM152.3 million.
Tenders for the systems contract for the Ampang line extension closed on June 16 2011. Eight groups had made the bids.
Business Times first reported that George Kent may win the job in July last year.
It was speculated early this year that the Posco-Sojitz-Daewoo International-Thales group was also one of front-runners to win the contract.
However, the Invensys-Balfour Beatty Rail-Ingress consortium later emerged as the odds-on favourite to win the systems contract. The contract was supposed to be awarded last month.
But Syarikat Prasarana Negara Bhd issued letters to the bidders, asking them to extend the validity of their bid to July 27, to give it more time to evaluate the proposals.
The other bidders are Colas-CMC Engineering-Thales, Samsung-LG-Thales, SNC Lavalin-WW Engineering-Bombardier, Siemens-Scomi Engineering and Ansaldo-Emrail-Leighton.
"After a detailed study on all the proposals, a decision has been made on the best candidate, said a source with knowledge of the matter.
Prasarana, a wholly-owned government company established by the Finance Ministry, had budgeted RM1.5 billion for the system works.
The budgeting was done by UK consultant Halcrow/HSSI.
********************************
George Kent to double earnings every 3 years
(The Star) - George Kent (M) Bhd plans to double its profits every three years by ramping up contributions from its water meter business and by securing jobs under the Economic Transformation Programme (ETP).
"We have a plan to double (pre-tax) profits every three years. We achieved RM32 million in our last financial year (ended Jan 31, 2011) and did RM16 million three years before that," chairman Tan Sri Tan Kay Hock told reporters after the company AGM yesterday.
He said the company's water meter manufacturing plant here was running at full capacity and it intended to double its capacity in the next two years.
Tan Sri Tan Kay Hock at the press conference on Thursday, 7 July 2011.
"Last year, we delivered 2 million units of water meter and (water meter) housing," said Tan, adding that he expected good demand prospects from countries that George Kent exported its products to, such as Vietnam.
The company has also commenced initial exports to Laos and has identified Cambodia, Indonesia and the Philippines as potential markets.
George Kent exports to about 20 countries presently and will be investing RM50 million to upgrade its plant.
Tan said the company was optimistic about securing jobs under the ETP.
"We're excited about the 10th Malaysia plan and want to participate under the ETP. We have put in some competitive bids. We're looking for opportunities to invest in more water-related facilities.
"Our chances (of securing tenders) are very good. We've done it before and we'll do it again. Of course, we can't win every one," he said.
Tan also confirmed earlier reports that the company was bidding for the 17km extension of the Ampang light rail transit line, which is estimated to cost RM1.5 billion.
"We're one of the bidders. But we can't say anything. You have to wait."
George Kent has two core businesses, namely meters, manufacturing and industrial products and infrastructure investments, water and construction.
Tan said the company had a total order book of between RM400 million and RM500 million. "We have enough work to last us two and a half years."
********************************
And the Winner is.... Tan Sri Tan Kay Hock...!!!
(Malaysians must know the truth) - Wow, this is indeed an achievement for our PM Najib's golfing partner, the one and only Tan Sri Tan Kay Hock of George Kent (the water meter maker).
YM Raja Petra Kamarudin exposed his plot in Malaysia Today sometime in September, 2011 (READ HERE), but our great Tan Kay Hock kept smartly quiet, allowed time to lapse so that the short memory of Malaysian Rakyat would forget while he planned and schemed his way to CRBC (Chinese Road & Bridge Corporation) which like his previous horse CHEC (China Harbour Engineering Construction) is also within the Group of CCCC (China Communications Construction Co. Ltd).
You can bet your last penny that Tan Kay Hock (perhaps in collaboration with some other buddies and Daim) will not use any name of company connected to him or his family when working with CRBC for fear that his demand of RM500 million will be exposed again. Whatever vehicle is used in this contract, you can be sure that Tan Kay Hock's unseen hand is there, to grab the RM500 million (Rakyat's money); RM300 million for himself and his buddies, and RM200 mllion for Rosmah to buy that returned diamond and more luxury handbags, etc. etc.
It must be made known to all Malaysians that neither CRBC nor CHEC has track record of having constructed railroads, let alone electrified double tracking rail. Based on a Google search, these Chinese companies are good for ports, harbours, roads and bridges only. But YM Raja Petra Kamarudin in his article, has said that Najib was bent on giving the contract to CHEC for his golfing partner Tan Kay Hock, come what may. Therefore, since CHEC's plot exposed by Malaysia Today, and Tan Kay Hock could not get into the good books of CRCC (the forerunner) because they know his scandalous approach, he must have got CRBC to agree to his scheme of things.
YM Raja Petra Kamarudin had said, "In China, both the givers and the receivers of bribes will be sentenced to death with a bullet in the head plus the cost of bullet charged to the family of the deceased." In this case, we have to prove there is bribery involved first, and if proven, only the Chinese givers will face the firing squad, while they cannot touch our receiver (or his nominees) in Malaysia. We therefore cannot stop what our Najib wants to do for his buddy, and who cares if some Chinese givers get shot in the head? That's not our concern.
Behind every cloud however, there is always a silver lining, and we the Malaysian Rakyat will have to pray hard for that silver lining to appear during the coming GE13. When and if that happens, we can review the contract in details, checking every minute payment and commitment. The new Lords of Putrajaya will take all necessary actions to put these culprits behind bars, and cancel the contract (like what Pak Lah did to Mahathir's pet project), and to reopen negotiations with the new President of China, Xi Jinping.
Malaysia's name stinks in the global market where Government or semi-government projects are concerned. We have to stop this curse by promoting and assisting The March to Putrajaya.