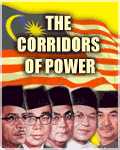 Tan Kay Hock is the chairman of Johan Holdings Berhad and George Kent (M) Berhad. Tan Kay Hock, who is Prime Minister Najib Tun Razak's golfing buddy, is also a member of the Iskandar Regional Development Authority (IRDA). He owns 49.59% of George Kent. Malayan United Industries Berhad, controlled by Khoo Kay Peng, owns a 9.3% stake in George Kent and 7% of Johan Holdings.
THE CORRIDORS OF POWER
Raja Petra Kamarudin
From left: Tan Sri Tan Kay Hock, George Kent managing director Lee Pui Leng, senior manager of finance Choong Wye Lin and director Datuk Zaidan Othman
George Kent Confident of Bid for Ampang-Line LRT Extension Project
(Malaysian Digest) - George Kent (M) Berhad, an engineering group, is confident of winning the Ampang-Line Light Railway Transit (LRT)'s extension mega infrastructure project worth RM1.5 billion.
The chances of getting the project is very good, its Chairman, Tan Sri Tan Kay Hock told reporters after the company's annual general meeting here today.
He said the company's bid for the project was strengthened by George Kent's previous experience of handling government contracts and its achievements.
"We are about to hand over the RM97.75 million Kuala Lipis Hospital in Pahang (Najib's home state) to the Ministry of Health, and I guess this is one of the very few hospitals delivered on time."
"George Kent only tenders for projects that we think we can do, thus, we don't see any negative points for not winning the tender," he said.
Prasarana Bhd is expected to announce the winner of the Ampang LRT extension project by September this year.
Tan also said the company, which also produces water meters and the casing for the meters, has embarked on a RM50 million plan to upgrade its manufacturing facilities in Puchong, Selangor to accommodate higher sales in the meter and Original Equipment Manufacturing businesses.
He said the present plant was already producing at a maximum capacity.
With the expansion, George Kent aims to double its production capacity to two million completed meters and two million pieces of non-meter brass parts per annum.
George Kent's pre-tax profit for the first quarter ended Apr 30, 2011 jumped to RM4.8 million from RM3.9 million in the same quarter last year.
Its revenue, however, slipped to RM30.7 million from RM32.5 million previously.
Tan said the demand for meters from Hong Kong, Macau, Middle East, Puerto Rico and Colombia remained strong.
"The company has also penetrated Vietnam and Laos, where we expect good returns," he said, adding that the company expects to sustain its growth as the year progresses.
Comments
(0)
Write comment