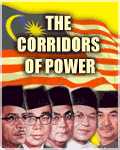 Over the last few days, there have been a lot of news about the Altantuya murder. Maybe Malaysians have forgotten that Razak Baginda was acquitted of the charge of murder and that the basis of his acquittal was the Affidavit that he signed in support of his application for bail. The Affidavit was never admitted as evidence during the trial and yet, strangely, it was used as the basis to acquit Razak. Maybe we need to recap on that incident because, as Umno says, Melayu mudah lupa.
THE CORRIDORS OF POWER
Raja Petra Kamarudin
Razak Baginda saved by his affidavit
The acquittal of political analyst Abdul Razak Baginda in the high-profile murder case of his former Mongolian lover made big headlines in Malaysian newspapers yesterday, with many zooming in on how his affidavit had saved him.
The sleazy and sensational affair, and Abdul Razak's close ties to Deputy Prime Minister Najib Razak, had kept the case in the public eye as the trial ran for two years.
His almost-forgotten affidavit filed two years ago was the highlight as it was pivotal to the High Court judge's decision to acquit him of abetting the murder.
The document was filed in court in an attempt by Abdul Razak, 48, to obtain bail before the trial started. He failed to get bail and there was criticism then by legal experts who considered it a wrong move to disclose his case so early in the trial.
But it turned out to be an astute move. High Court judge Mohamed Zaki Mohamed Yasin on Friday ruled that the tell-all affidavit had helped clear him of the charge of asking two policemen to kill Altantuya Shaariibuu.
"In the absence of the rebuttal evidence against them (statements in the affidavit), coupled with the fact that there is no legal onus for him to rebut any statutory presumption, there is clearly no reason for the statements to be ignored and rejected," the judge said.
The lengthy document detailed how Abdul Razak met Altantuya in 2004, and had an affair with her that lasted until 2005.
After they broke up, he alleged that the 28-year-old interpreter harassed him, and that he had sought the help of the police. But he denied telling them to kill her.
According to court evidence, Altantuya's remains were found in a jungle outside Kuala Lumpur, blown up with explosives after she was shot dead.
The judge found that 13 statements in the affidavit were not rebutted by evidence put forward by prosecutors. In a nutshell, they recounted how Abdul Razak had asked Musa Safri, a security aide of the deputy premier, for help because of Altantuya's harassment.
Musa reportedly said he would introduce him to a police officer. The co-accused Azilah Hadri, an officer from an elite unit that guards VVIPs, called Abdul Razak the next day.
Abdul Razak said he called Azilah on Oct 19, 2006, when Altantuya turned up at his house.
Altantuya was taken away by three police officers. Abdul Razak said he subsequently asked Musa what had happened to Altantuya but the aide said Azilah did not tell him.
The judge on Friday found these statements were corroborated by witnesses at the trial, and "clearly negated and nullified the act of abetment as alleged".
This detailed legal explanation was, however, described by veteran opposition politician Lim Kit Siang as a technical one, as he demanded further investigation.
The immediate public reaction on the Internet was, as expected, similar. Abdul Razak's close ties to DPM Najib were hauled out to hint at favoured treatment although there was no evidence of this.
Lim wrote in his blog that it was imperative for Najib to face an independent government inquiry on the allegations.
So far, Abdul Razak has not given his side of the story. After his acquittal, he went back to his house in upmarket Damansara Heights before going to the mosque for Friday prayers.
He wore broad smiles each time he came out of the house, but declined to speak to reporters. He also said he had been fasting for the 22 months since he was arrested.
His two co-accused, Azilah and Sirul Azhar Umar, who allegedly killed Altantuya, have been ordered to present their defence. The hearing will begin on Nov 10.
Here are excerpts of the affidavit filed by Abdul Razak Baginda:
EVEN though I had appointed (private eye) P. Balasubramaniam, the harassment by Altantuya against my family and me did not stop. Hence, I asked Deputy Superintendent Musa Safri (a security aide to Deputy Prime Minister Najib Razak) for help.
I also sought help to be introduced to a police officer from the Brickfields police station as my house was under their jurisdiction.
DSP Musa told me that he would introduce me to an officer who would help me.
On Oct 17, 2006, the deceased came to my house and wanted to meet me. I was not at home at that time, and my wife learnt of her visit.
On the night of Oct 17, I was at home and there was a commotion outside the house.
I called Balasubramaniam and Dhiren Norendra (a lawyer) to help me. A police patrol car arrived to settle the matter.
DSP Musa later called me and said a police officer would call me to help me sort out my problem with the deceased.
On the morning of Oct 18, 2006, Azilah Hadri (one of the co-accused) called me and introduced himself as the police officer who was referred by DSP Musa to help me.
I subsequently met with Azilah. I told him that the deceased had caused a commotion at my house, and asked him to conduct patrols around my house.
On Oct 19, 2006, Balasubramaniam called me and told me that there was a commotion outside my house. I was out with my family. So I called Azilah for help.
Balasubramaniam told me that three plainclothes police officers came to my house... to take the deceased away.
On Oct 20, I bumped into DSP Musa. I asked him what happened the night before and DSP Musa told me Azilah did not tell him anything. -- The Straits Times, 2 November 2008
*************************************************
Defence objects to Razak's bail affidavit
Two statements in Abdul Razak Baginda's bail affidavit is prejudicial and must be deleted if the document is admitted in court, the High Court heard today.
Defence counsel Datuk Hazman Ahmad submitted there was no direct evidence to prove the statements and they were mere allegations accusing his client, Chief Inspector Azilah Hadri, of a crime he was never charged with.
Hazman was submitting in the Altantuya Shaariibuu murder trial where he objected to the prosecution's intention to admit Razak's bail affidavit.
On May 28, the prosecution tried to tender the affidavit through deputy High Court registrar Wan Mohd Norisham Wan Yakub, saying it was a sworn statement by Razak to show what transpired between him and Altantuya.
Hazman, however, objected to the admissibility of the document and is seeking to delete the two statements and Razak's cautioned statement which was attached to the affidavit (if the court decides to allow them).
The two statements were:
- Azilah boasted he had caused the death of six to 10 people and that he could settle Razak's problem. Razak then ticked Azilah off and told him that he did not want anything untoward happen to the deceased. Razak said he thought Azilah, as a police officer, understood what he meant and believed he would not do anything against the law.
- Azilah told Razak that he was at his (Razak's) house and told him 'Sir, you can sleep soundly tonight'. Razak then told Azilah at least three times not to harm the deceased.
The affidavit was filed on Jan 5, 2007, by Razak before another judge to ask for bail, but was rejected. -- eMedia, 10 June 2008
*************************************************
Mongolian's murder: Razak reveals his relationship with Altantuya
In a desperate bid to secure bail, political analyst Abdul Razak Abdullah today revealed in High Court his relationship with Mongolian interpreter Altantuya Shaariibuu.
Saying that he first met Altantunya in Hongkong at the end of 2004, and in a relationship that lasted about eight months, Abdul Razak said he gave her US$10,000 three to four times, and more.
He said Altantuya told him that she was a student, and to earn a living she worked as a "part-timer" but Abdul Razak did not elaborate what it meant.
He said he also took pity on Altantuya because she said her mother had cancer.
Razak's statement was contained in an affidavit tendered to the court by his counsel Wong Kian Kheong who read it out.
The affidavit was tendered by Wong in an attempt to obtain bail which High Court judge Datuk K.N.Segara had denied him earlier because there was no medical grounds to support his application for bail.
Wong told the court that there were no reasonable grounds to hold his client under detention as he has not been found guilty.
He then tendered the affidavit which details Abdul Razak's movements, actions and relationship with Altantuya.
Abdul Razak said he got acquainted with the Mongolian woman in Hongkong at the end of 2004 and had met her in Shanghai in early 2005, Singapore, Kuala Lumpur and France in middle of 2005.
The relationship continued for about seven to eight months until Abdul Razak ended it.
Razak said Altantuya identified herself as Aminah during their relationship.
Wong said Razak stopped giving money to Altantuya after she continued to demand for more and he could not tolerate it any longer.
During Wong's argument, Abdul Razak was seen asking Wong's assistant for a piece of paper to jot down something before passing it back for Wong's attention.
In the affidavit, Abdul Razak also explained about the harassment he encountered from Altantuya when he decided to end his relationship with the woman.
He said the matter became serious when Altantuya continued with the harassments through SMSes and telephone calls and he decided to seek help when Altantuya threatened to harm his daughter.
Based on a lawyer's advice, Abdul Razak hired a private detective, former policeman P. Balasubramaniam and an assistant.
The private investigators were supposed to provide security to him and his family members who were told about the affair with Altantuya.
Abdul Razak also sought the aid of a DSP Musa Safri who introduced him to C/Insp Azilah Hadri.
He said Musa had told him that Azilah would be able to help him and he met him (Azilah) personally once, while at other times the communication between both of them was through telephone.
Abdul Razak said in the affidavit that Azilah was responsible for the death of about six or more people and he would be able to help the political analyst.
At this point, lawyer representing Azilah, Zulkifli Noordin interjected by saying that the accusations against his client were unjust.
Segara ordered Zulkifli to sit and not to get excited as he was supposed to hold a watching brief and not take part in the proceedings.
As Wong continued with the affidavit, Segara interjected from time to time telling him to stick to the facts and not draw inferences from the events that unfolded as Abdul Razak attempted to "get rid" of Altantuya.
At one juncture, Wong skipped part of the affidavit on Abdul Razak meeting Musa at the Deputy Prime Minister's (DPM) office on official matters, during which he (Abdul Razak) enquired about Altantuya's fate.
Segara became angry and said: "Why are you avoiding the part, there's nothing to hide, the DPM would not be embarrassed if the matter is mentioned. This is the court. Everything has to be disclosed."
Segara said the affidavit produced by Abdul Razak pointed to a conclusion that he had abetted with Azilah to "get rid" of Altantuya from his life, but the matter was to be deliberated when the trial begins.
He said Abdul Razak despite knowing that Azilah had killed several people, chose to continue seeking his aid.
Wong said Abdul Razak had specifically told Azilah not to cause any harm to Altantuya, but he did not want her to be sent to lock-up and later deported as the Mongolian would be angry with him and his relationship with her would come out in the open.
The court was also told that at one point, Azilah told Abdul Razak "Tonight sir, you can sleep peacefully".
Wong also tried to substantiate his appeal for bail by saying that the previous two judges who heard Abdul Razak's case had allowed him to be released on bail, but Segara cut him off by saying he will not comment on their decisions.
After Wong was done, DPP Salehuddin Saidin tried to stand up to speak but Segara quickly told him: "You don't have to say anything."
Wong declined to comment when asked if he would appeal against the decision.
Shedding tears, Abdul Razak hugged his wife, daughter, parents and siblings as he was led away by the police to prison.
Earlier, Segara said the court was unable to consider Abdul Razak's application as he had not fulfilled the exceptional circumstance for him to be allowed bail.
"There is not a single evidence to show that he is incapacitated by illness. Is he telling the truth or is he malingering," said Segara.
He said Abdul Razak had failed to produce a medical report in relation to his medical condition and therefore the court was put in a difficult situation as it was unable to weigh his application based on exceptional and special circumstances.
"Without the benefit of a medical report, I won't even consider. It must be supported by documents. I have given enough time but the medical reports were not forthcoming at all.
"Affirment that he is suffering serious medical conditions and hypothesis that he requires constant medical attention is insufficient," he added.
Segara also said he was rather amazed, based on details in the affidavit, that the medical conditions allegedly suffered by Abdul Razak was not detected by the Gleneages Medical Centre but was determined when he sought treatment in Kuala Lumpur Hospital after his remand.
Segara also said the offence Abdul Razak was charged with is serious and non-bailable.
However he said, Abdul Razak can at anytime approach the court if his medical condition, as claimed, became evident and the court would consider his application for bail at that time, based on evidence produced. -- The Sun, 19 January 2007
************************************************
Judge: Enough grounds to prove Razak abetted in murder
This caused Justice Segara to interject: "You have got here a person who claims that he had killed before and he can settle your problem."
"And what is your problem? You were threatened by a woman and you want her out of sight. Period. Yet, you go on dealing with that police officer."
Wong (referring to affidavit and reading): I (Razak) told Chief Insp Azilah not to do anything untoward against Altantuya. If any such thing were to happen to her, her family will look for me. I believe that as a police officer, he would not commit a crime. I only asked him to get police to patrol around my house. I gave him my address and Hotel Malaya where the deceased was staying.
Judge: Whatever for did he give the address of the hotel to this man who said he had killed before? The relationship had ended in 2005 and suddenly, she is back in the picture in 2006. You don't call the authority but a crime was committed after that.
Wong: The accused took Chief Insp Azilah as a police officer who can help.
Judge: Is your client an ordinary layman for you to give me such an answer?
Wong: My client did admonish Chief Insp Azilah.
Judge: Why call Azilah and not the police directly?
Wong: To protect the family.
Judge: This is your version but there are a lot of gaps. This is one man who claimed he had killed yet you went to him.
Wong: But the accused had admonished him.
Judge: Who is he to admonish a police officer? He had no right. Is he the boss of this person? Is he the IGP? These are questions that you cannot run away from answering.
Wong: He wanted Azilah to help him in a legal manner.
Judge: Come on, you expect the court to believe this? He has such a big establishment. He can just walk into the Brickfields police station and see someone. Anyway, I have not formed any conclusion about your client's guilt. I am only questioning based on what is stated in the affidavit.
"The whole thing is here. He called the person to get rid of her. No need to go any further in relation to abetment. The police officer is no longer helping him as a police. He is there in his personal capacity. This particular episode has flashed the entire abetment act."
Justice Segara said that it was in this light that the court would look at the case.
"We will only know at the time of the trial when we hear all the other people's versions. Then, we will know whether he had asked to kill or not. At the moment, he abetted in contacting Azilah, knowing very well that he had killed six people," he said. -- The Star, 20 January 2007
Comments
(0)
Write comment