THE CORRIDORS OF POWER

Raja Petra Kamarudin
Umno cannot be brought down, at least not from the outside. That's what 50 years of Umno rule has taught us. Actually it is 52 years if you consider the first elections in 1955, though general elections were not held until 1959, two years after Merdeka.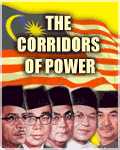 From the 'ashes' of Team B arose Semangat 46. And after more than a decade it proved, yet again, that the Prime Minister plus Umno cannot be brought down from the outside. Semangat 46 was eventually wound up and all the members and leaders rejoined Umno en bloc -- or almost en bloc because some have refused, until today, to rejoin Umno. In fact, some have since died and they died outside Umno, refusing until their last breath to rejoin Umno.
But these ex-Semangat 46 members and leaders did not rejoin Umno to resume the plan to topple the Prime Minister. They rejoined Umno to bide their time, waiting for the day when Mahathir would relinquish his post, or die in office, when they can then take over the reins of power.
Today, Mahathir is no longer Prime Minister. And those who were once branded as traitors to Umno and to the Malay race, those who were defiled and cursed as enemies of the nation, are today walking in the corridors of power. But not all are ex-Semangat 46 members or leaders. True, they were in Team B and bitterly opposed to Mahathir. But some, like current Prime Minister Abdullah Ahmad Badawi, refused to follow their mentor, Tengku Razaleigh Hamzah, into the ranks of the opposition when Semangat 46 was launched. Abdullah and his ilk preferred sitting it out in the political wilderness and wait for the time when they can be 'rehabilitated' and allowed back into Umno. Abdullah may not look smart. But he is smart enough to know that the Prime Minister and Umno cannot be brought down from the outside. You must get back into Umno to do that. So he waited until he was allowed back into Umno so that he could eventually climb back up the Umno ladder and into the seat of the Prime Minister.
No sooner had Abdullah taken over as Prime Minister did he call for fresh general elections. He did not want to just be Mahathir's successor. That was not good enough. Mahathir was, after all, the enemy and no way would Abdullah receive charity from he whom he once bitterly opposed. He wanted his own mandate from the people. He wanted to be his own man, not somebody's man, especially not Mahathir's man. And the people gave him that mandate. The people gave him 92% of the seats in Parliament, the most impressive election performance ever which not even the great Mahathir could duplicate. And once he had safely planted himself into the seat of the Prime Minister by virtue of his own landslide mandate from the people, he set about dismantling the Mahathir legacy and to erase from the history books all the good Mahathir had done while allowing all the bad to surface so that the Grand Old Man of Malaysian politics will be remembered for the worst of times.
A direct attack on Mahathir may not work. After all, the Old Man still has some clout and enough loyalists within the government to thwart any 'assassination' attempt. So, true to Malay fashion, indirect hits were made. Targets were chosen that will not appear as if Mahathir is the target but would invariably lead to his door. And one of the many targets was Lingam.
Actually, Abdullah, or at least his advisers on the fourth floor led by his son-in-law Khairy Jamaluddin, very brilliantly leaked the Lingam Tape. How the Lingam conversation was recorded and who leaked the videotape is not known and may never be known. Some say it was Lingam's own brother who recorded it and leaked it, but then even his brother is not aware of the videotape. He is certainly in the know about many things and his long police report and testimony are proof of this. But the Lingam Tape is not amongst that testimony; so some other hands must be behind it.
The audio of the videotape is very clear. The visuals are not. And it is a recording of a monologue, not a dialogue. But, hazy as it may be, it is enough to raise doubts that the video might be authentic. And a Royal Commission of Enquiry has been set up to get to the bottom of the whole incident and verify whether the recording is a fake or for real.
The authenticity or otherwise of the recording is not really that crucial. What is important is that the matter has surfaced. And the incident leads to Mahathir's door. Now Mahathir has to seriously consider whether he wants to resume his attacks on Abdullah or be a good boy and save himself the embarrassment of the Lingam Tape becoming Malaysia's version of Watergate. They have got Mahathir by the short and curly, or so they thought.
Abdullah may have his Watergate a.k.a Lingamgate hanging over Mahathir's head. Mahathir, however, has his own Watergate a.k.a Dolahgate hanging over Abdullah's head as well. Is it a checkmate? Or is it a case of who blinks first dies?
The Royal Commission will be hard-pressed in proving the Lingam Tape authentic. Chances are they will conclude that the authenticity of the videotape cannot be proven. In a court of law, the evidence alone is not enough. The maker also needs to be revealed. Even if you adduce a signed document in court, the court will not accept it as tangible evidence until the maker testifies in court that he or she is indeed the maker. Will the 'maker' of the Lingam Tape come forward to testify or will he or she remain an anonymous whistleblower? Unless the maker comes forward there would be no way to prove that the videotape is authentic and not a fake.
The Dolahgate issue is another thing altogether though. A police report has been made and the police are currently investigating the matter. Abdullah chaired the Umno Supreme Council meeting of 28 August 2006 and instructed the Deputy Minister of Internal Security and the Menteri Besar of Kedah to ensure that Mahathir loses his bid in the Kubang Pasu division election of 9 September 2006 to become one of the delegates to the Umno General Assembly. On the eve of the division election, the Umno Disciplinary Board members held a gathering at the Kubang Pasu golf club and told the delegates to not vote for Mahathir. An amount of RM200 in an envelope was then handed out to each and every delegate.
Five of the delegates subsequently made police reports testifying to this. And an official report was made to the Umno headquarters with these police reports and signed Affidavits as evidence. Subsequently, one of those who made this report was beaten up in his home in front of his family and he made another police report on the matter. Thus far no action has been taken on the complaint, the Affidavits or the police reports. The matter was still pending until the latest police report lodged by Johari Ismail on 6 November 2007. Now the police are looking into it.
It is now more than a year since this 9 September 2006 incident in Kubang Pasu and the Umno Supreme Council meeting of 28 August 2006. It is also four years since Abdullah took over as Prime Minister. The honeymoon is now over. It has been over for some time now. And Umno is getting restless. The members and leaders are beginning to get worried and are asking where Umno and the country are heading to. They see a bleak future over the horizon. And they feel it is now time for a leadership change.
Yes, the Prime Minister cannot be brought down from the outside. Umno cannot be brought down from the outside. Time and time again history has proven this. But the Prime Minister can be brought down from the inside. And the Umno members and leaders would be prepared to bring the Prime Minister down as long as Umno itself is not brought down. The Malays prefer to remove hair from flour without spilling the flour. But if the flour is destroyed in the process then better the hair is left where it is.
Abdullah is bad for the country. The people know this. The opposition knows this. And now Umno is beginning to accept this fact as well. But Umno will rally behind Abdullah if Umno is in jeopardy. They will support Abdullah if Umno's fate is in question. They will not oppose Abdullah if Umno's future is at risk. They will only abandon Abdullah if in the process Umno does not suffer.
Our first task in hand is not to topple the ruling party. That can come later if it ever comes at all. We need to save the nation and get rid of that which is detrimental to this nation's health. And that cancer which will eventually see the death of this nation is the man who leads us in the corridors of power.
So we, the people, must not oppose Umno. The ruling party is not the enemy. The enemy is he who leads Umno and who will affect the future of all of us, those in the opposition as well as in the ruling party.
A campaign is ongoing by those in Umno. It is a whispering campaign that seldom reaches the ears of those in the opposition but is heard by those in Umno who congregate at the coffee houses and Mamak shops. Flying letters are being photocopied and passed around to all and sundry. Some are believable and some are not. Some are so incredible it makes one wonder how in heaven's name they are able to come out with such a spin. But the more incredible, the more people tend to believe the stories, mainly because the stories are so incredible it would be impossible for anyone to come out with such a yarn. It is left to the imagination of the audience whether to believe them or not. But when many repeat the stories, and if they are repeated often enough, eventually fiction becomes fact and it would be very difficult to distinguish one from the other.
They relate stories about Jeanne Danker's marriage. Abdullah is the third and not second husband, goes the spin. Some Umno types even swear they have seen the documents. What documents they do not make clear but it involves the divorce papers of Jeanne's second marriage. They divorced without any papers, say the story-tellers. And that was why Abdullah's marriage to Jeanne was delayed many months. They had to go seek out Jeanne's second husband to settle the papers before Abdullah could marry her.
Is this a well-kept secret, Jeanne's skeleton in the closet, or is this a sign of desperate people spinning a tall yarn in a desperate bid to destroy Abdullah's image and credibility? I could never understand the Umno culture anyway so I will not even begin to try to understand the logic in this spin. Well, argue the story-tellers, who would believe Anwar Ibrahim is gay? Finally it was proven that he is. So is it so hard to believe the story about Abdullah and Jeanne? Okay, that sounds logical. But the problem with this 'logic', though, is that I am not convinced Anwar Ibrahim is gay. So the analogy does not quite work on me.
Whatever it may be, Malaysia Today deals with facts and the untold stories from eyewitnesses and those involved in whatever sequence of events is being related. Sure, granted, not all 'facts' can be proven by way of documents. Even courts of law take eyewitness testimonies into account in the absence of documents. But eyewitness testimonies must be confined to first party and not second party accounts, which would be rejected as hearsay by the courts. And while the courts insist on the testimony of the witness in an open court, Malaysia Today is well-prepared to allow Deep Throats to remain anonymous in the interest of protecting the identity of our whistleblowers.
Stories of Jeanne's and Abdullah's love-life may not be enough to bring down the Prime Minister. But an internal revolt within Umno and Barisan Nasional can. And it appears like a silent and underground revolt is currently at play. Johari Ismail's police report implicating Abdullah in a criminal act is one such issue. Not only has the Societies Act been violated on 28 August 2006, but Umno's party constitution and Code of Ethics as well. In fact, Abdullah's act can jeopardise the entire Umno as it did 20 years ago when the party got wound up by the Registrar of Societies.
It seems a few Umno Supreme Council members are prepared to come forward to testify if this case goes to court. And there is talk that the case will go to court. If those who were present in the Umno Supreme Council meeting plus those who received instructions to sabotage Mahathir on 9 September 2006 confirm this to be so, then Abdullah would have to step down as Prime Minister. The fact he does not spend six years in jail for abusing his authority like what happened to Anwar Ibrahim is blessing enough although that is what should actually be his fate.
Further to that, there is a case that will be filed in the Kota Kinabalu High Court at 11.00am on 12 December 2007 that does not augur well for Abdullah. The Mufti of Sabah issued a fatwah (religious decree) that declared all Buddhist statues haram (forbidden). With that fatwah the Thean Hou Foundation was forbidden from erecting the Goddess of the Sea statue and was ordered to halt all work although they had already brought in the statue and work had progressed halfway.
Chong Kah Kiat went to meet the Prime Minister and Deputy Prime Minister in an attempt to try and resolve the matter. Recently, Abdullah said he has big ears and is prepared to listen. He also said he knows what is going on and is not as blur as many claim. The Deputy Prime Minister urged Abdullah to do something as this matter can be very explosive. Article 11 of the Federal Constitution of Malaysia allows freedom of religion. While this freedom is not extended to Muslims, and Muslims may not leave Islam or convert to another religion, the government cannot interfere in non-Islamic religions as stipulated under the Constitution.
The largest Buddhist statue is in the 'Islamic' Sate of Kelantan. Umno says that PAS is an extremist party and very intolerant towards non-Muslims or towards other non-Islamic religions. But PAS allows the largest Buddhist statue in Malaysia in the state that it rules. And it was during the rule of PAS that its Menteri Besar summoned the Hindus to a meeting and offered them a site to build a Hindu temple. He approved the Hindu temple on the spot without any requirement for a formal application or for any committees to be formed to look into the matter. In fact, the Hindus had previously applied for permission during the time that Umno was ruling the state so Nik Aziz just resurrected that decades-old application and approved it without the need for a fresh application.
Umno comes out with fatwahs declaring Buddhist statues haram and forbids its erection while PAS allows the largest Buddhist statue in the country. Umno demolishes Hindu temples while PAS summons Hindus for a meeting and offers them permission to build one though they never asked for it thinking that surely PAS would say no if Umno says no. So this Sabah situation does not look good for Umno, argued Najib, who was trying to get Abdullah to reverse the decision of the Sabah State Government and override the fatwah of the Sabah Mufti.
Abdullah says he has big ears and that he listens to the people. He does not want the Hindus to organise demonstrations and protests but instead come talk to him. The Deputy Chief Minister of Sabah, Chong Kah Kiat, not a mere estate worker or labourer from HINDRAF, did go talk to him. Even the Deputy Prime Minister tried convincing him, though it was an exercise in futility. But at 11.00am tomorrow, 12 December 2007, Chong Kah Kiat will be filing a suit in the Kota Kinabalu High Court because Abdullah is not listening.
Chong Kah Kiat has discovered something new today. PAS is not really the 'Taliban' party that Umno says it is. And Abdullah's Islam Hadhari is not as liberal as what Umno says it is. And this will make the Chinese sit up and take note. Whether Abdullah is Jeanne's second or third husband matters not one bit to the Chinese, although the Umno chaps are whispering this in the coffee houses and Mamak shops. However, whether the Umno government and Abdullah's Islam Hadhari is tolerant to Buddhists and Hindus does. And luckily the Umno Member of Parliament's resolution in Parliament that missionary schools be made to remove all Christian religious symbols, statues and crosses was vetoed. If not the Christians too would join the Buddhists and Hindus in opposing the government.
And, as if this is not enough, today, the Attorney-General sent the Deputy Minister of Internal Security a letter instructing him to release 'Tengku' Goh from restricted residence. The Deputy Minister is just the number two. The number one, the Minister, is the Prime Minister himself. Would the Attorney-General dare send the Deputy Minister a letter instructing him to release the boss of bosses of the underworld crime syndicate if the man above that Deputy Minister, the Prime Minister, did not endorse this?
Yes, when we first came out with episode one of our ten-part series on the organised crime syndicate we said "All roads lead to Putrajaya". Today, that has been proven. Today, the Attorney-General has proven that the Prime Minister is the patron of the Chinese organised crime syndicate just like he is the patron of the Malay underworld, PEKIDA.
And what happens to the man who detained 'Tengku' Goh? If 'Tengku' Goh is innocent and must be released by the order of the Attorney-General and the endorsement of the Prime Minister, what fate awaits he who detained 'Tengku' Goh?
Well, it is said that the Director of the Commercial Crime Division is being investigated for not declaring RM27 million in assets. He is not being investigated for amassing RM27 million in assets. He is being investigated for not declaring it. And he was arrested and charged. And he has been suspended from duty pending the outcome of his trial.
But he was not charged for not declaring RM27 million in assets -- and certainly not for acquiring those assets. This issue of RM27 million assets is no longer the issue. This is because there are no RM27 million in assets, whether he declared them or not. He is being charged for flying in a police aeroplane. Yes, the man who was the Police Commissioner of Sabah and who drives around with a flag adorning the bonnet of his car just like the Governor of the state has been charged for flying in a police aeroplane that was his to use anyway.
Abdullah too flies in a government plane. He takes his whole family on these plane rides. And he does not just fly around the jungles of Sabah. He flies all over the world even when he goes on private holidays. And he even brings Jeanne Danker along on these plane rides though at that time he was not married to her yet. And Jeanne joins Abdullah on these family holidays in the government plane and stays at the home of Patrick Lim though she and Abdullah were not yet husband and wife.
But Abdullah is not arrested and charged for using a government plane for private purposes even though his whole family and retinue of friends, together with his girl friend, were brought along. The Director of the Commercial Crime Division is.
Abdullah has lost the plot. Even those close to him have become very worried. Too many things are not right. BERSIH, HINDRAF, and the host of other issues are just the tip of the iceberg. Abdullah has launched an OPS PADAM. This Ops Padam is the codename for an operation to wipe out all those opposed to him. Today, about two dozen were arrested. On Sunday, a dozen were arrested. More than 60 Indians will face attempted murder charges. Abdullah thinks that if he erases (padam) the opposition then his problems will be solved.
But his problems will not be solved. They will not be solved because the opposition is not his real enemy. The opposition cannot topple him. The opposition cannot topple Umno. Only those within Umno and Barisan Nasional can do that. When 'Tengku' Goh walks free, those within the police will become disgusted. When the Director of the Commercial Crime Division who arrested 'Tengku' Goh gets sent to jail for the 'crime' of flying over the Sabah jungles in a police plane, more police will get angry. When Chong Kah Kiat files his suit against the government in the Kota Kinabalu High Court because of the fatwah by the Sabah Mufti that Buddhist statues are haram and can't be allowed, that would make the Buddhists angry. When the attempted murder trial of the HINDRAF supporters starts, that would make the Hindus angry. And when they act on the police report against Abdullah for his crime of sabotaging Mahathir in the Kubang Pasu division election, many in the top echelons of Umno will come forward to testify to ensure that the noose around Abdullah's neck will become tighter.
Yes, that will be how Abdullah will be sent into retirement -- not whether he is Jeanne's second or third husband, but all those issues which Abdullah has closed his eyes and ears to. But Najib did try to warn him. But Khairy does not want Abdullah to take advice from Najib. Abdullah has his fourth floor advisers led by Khairy, so only these people must be allowed to advice Abdullah. And their advice is to launch Ops Padam and erase all opposition to the Prime Minister. But they have no plan on how to padam opposition within Umno and Barisan Nasional. And that will be how Abdullah eventually falls.
Comments
(0)
Write comment