THE CORRIDORS OF POWER
Raja Petra Kamarudin
It is not known when the next general election will be called. Some say it will be 15 March 2008. Some say earlier. And some say Abdullah will allow his term to run until the last day, which is 21 March 2009. Whatever it may be, one thing is clear, 60% of the candidates will be new faces. And many will be from the next generation, the under 40s age group.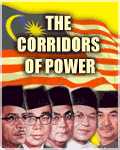 We need a leadership change, said Shahrir Samad, the then Chairman of the Parliament Backbenchers' Club, popularly known as BBC. You could almost hear a pin drop in the conspicuous silence, a predictable response to what most would regard as a 'bombshell' in the days when dissent was perceived as tantamount to insulting the very Prophet himself. Shahrir allowed his matter-of-fact statement to sink in as he slowly and deliberately glanced across the length and breadth of the room before he broke the silence with his follow-through declaration.
Mahathir has to go, and it should not be Anwar Ibrahim who takes over, Shahrir added while giving me a piercing stare as if to sink home the point that the part about Anwar was meant specifically for me, the man who carried the title of Director of the Free Anwar Campaign. It should not even be you or I who takes over, Shahrir clarified further to make it clear to all and sundry that his point about Anwar was not personal in nature but based on principles, though I certainly harboured no ambitions to take over the running of this country.
The people who should be taking over the running of this country has to be the next generation, those under 40, argued Shahrir. This country belongs to the next generation. Our days are gone. We need young blood with fresh ideas, Shahrir explained in the event there were still some who were wondering why our generation was over-the-hill and why the need for this country to be handed over to our children.
Look at Singapore. They are successful because the older generation does not cling to power but the young are groomed to take over. Malaysia has to emulate Singapore, Shahrir ended his declaration with what could be considered as blasphemy.
That was six years or so ago, the era when Tun Dr Mahathir Mohamad was still the Prime Minister. And it was not wise in those days to compare Malaysia to Singapore. What is good for Singapore may also be what is good for Malaysia. But one must never say this. But then Shahrir is never one to follow convention. In fact, the more Mahahir does not like Malaysia to be compared to Singapore the more Shahrir would say it, as if he is purposely trying to needle Mahathir in an attempt to rub him the wrong way.
It is no secret that Shahrir's pet hate is Mahahir while the man he hates the most after Mahathir is Anwar Ibrahim. No wonder he feels Malaysia has no place for either Mahathir or Anwar. But he did qualify by saying that it should not be he or we who takes over either. It should be the next generation, those below 40.
Six years or more have since gone by and what Shahrir said is now all water under the bridge. Mahathir has since left the scene but it is still the older generation that is running this country. The younger generation, those below 40, are not yet holding the reins of power as per Shahrir's prognosis. Those running this country are still those from that generation which Shahrir said has to go. Yes, that may be so, they may not yet be in the driver's seat, but they are certainly walking in the corridors of power and are instrumental in charting this country's destiny.
Many hate current Prime Minister Abdullah Ahmad Badawi because he is not capable of running the country with an iron fist the way Mahathir was able to. But then, when Mahathir was running this country, they hated him for that very same reason, because he was running it with an iron first. They felt that Mahathir should delegate more and not decide single-handedly everything down to what tree should be planted and where it should be planted.
Yes, when Mahathir first took over as Prime Minister, he took the Federal Territory Minister and the Lord Mayor of Kuala Lumpur, together with the City Hall officers, on a bus ride around the city one Sunday so that he can brief them on how the landscaping should be done. He told them which tree should be chopped down and where the new ones should be planted and in which location there was a need for flowers. When they renovated the Subang Airport he personally supervised the work and even decided on the colour of the check-in counters. Mahathir was engineer, architect, interior designer and town planner all in one. And in spite of that heavy workload, he read every scrap of paper and every report before all the meetings and nothing got by him unnoticed.
Then we have Abdullah and he reads nothing and is not able to get through half a page of an A4 document without losing concentration while struggling to not fall asleep. Abdullah is the exact opposite of Mahathir. And while Mahathir had his hands on the pulse of even the minutest details, Abdullah allows the country to operate on autopilot. No, the country is not being run by the older generation. As what Shahrir wanted, the country is being run by the next generation, the under-40s age group. Shahrir got his wish after all. The only difference is that the next generation, the under-40s, is not sitting on the throne. But it is certainly the power behind the throne. While it appears like the older generation is running this country, the truth is those under-40s, the next generation, is walking in the corridors of power and decides what happens to this country leaving Abdullah free to embark on his overseas jaunts every two weeks or so.
It is not known when the next general election will be called. Some say it will be 15 March 2008. Some say earlier. And some say Abdullah will allow his term to run until the last day, which is 21 March 2009. Whatever it may be, one thing is clear, 60% of the candidates will be new faces. And many will be from the next generation, the under 40s age group. The days of the Umno Warlords will soon be a thing of the past. People like the Menteris Besar of Perlis, Perak, Johor and Pahang and the Chief Ministers of Melaka, Sabah and Sarawak will have to make way for new and younger faces. Many members of the Cabinet, in particular those carrying baggage, will be dropped. And these changes will also affect the component members of the Barisan Nasional ruling coalition.
Umno's as well as Barisan Nasional's problem is that the warlords call the shots. As strong-minded as Mahathir may have been, he could not ignore the warlords. And Abdullah suffered the same thing when he took over, which is why he did not dare drop any of the old faces and was forced to retain what could be perceived as Mahathir's legacy. Mahahir was powerless in spite of being accused of running this country with an iron fist. Abdullah, a lesser man that Mahathir, would certainly not be able to discard the warlords even if his life depended on it.
But it is not Abdullah who is determining who gets dropped and which new faces and young blood replaces them. That is the job of his team of advisors on the fourth floor who owe their allegiance to Khairy Jamaluddin. These are those who now walk in the corridors of power and who are charting this country's direction. Notable amongst them are the likes of Zaki Azmi, Omar Ong, Norza Zakaria and the aggressive team of yuppies who are determined to shed the old ways and emulate how Singapore brought that tiny Island State onto the world stage.
Zaki and Omar come from what could be said to be illustrious families. Their fathers were already big names even as they were still learning how to walk. Even their boss, Khairy, can be considered as from an elite family since his father was a diplomat. Khairy, in fact, spent most of his youth in elite international schools and grew up amongst the selected few. Norza, however, is another kettle of fish. He hails from a humble background, the son of a schoolteacher, and in a feudal system where you have to be somebody to become somebody, Norza can be said to be an exception amongst the lot.
Malays in general and Umno in particualr still subscribe to the feudal system. Most come up through family connections. Mahathir is probably amongst the rare breed who was from a 'nobody' background and that is why many looked at him with awe. In a system where you must have been born from or at the very least marry into the right family, moving up on your own steam is not an easy option.
Mahathir, however, is not exactly a nobody. Siti Hasmah is from an established family as was the late Endon. Therefore, as much as we might pass off both Mahathir's and Abdullah's fathers as simple schoolteachers, their wives were from established families. So Mahathir and Abdullah both had the advantage of their wives' connections to get a head-start in life. And the same can also be said about Khairy who probably would still have made it but certainly at a much slower pace if not for the fact that he is married to the Prime Minister's daughter.
Khairy and his team of fourth floor boys, all under-40 yuppies, have big plans for the future. And they are not about to allow anyone to stand in their way. But they must first send all the warlords into retirement. And this will be done come the next election when the old faces will be dropped in favour of fresh faces. It is not just that these faces are new though. They will also be aggressive and professional yuppies who know what they want and know how to get it.
Norza, as an example, may be the offspring of a simple kampong schoolteacher. But he has left the kampong behind him and has moved on. For some, you can take the boy out of the kampong but you can't take the kampong out of the boy. And kampong politics is the politics of warlords and patronage. The young kowtow to the elders and treat the elders like demigods. However, this is not the lifestyle of the fourth floor boys who walk in the corridors of power. Theirs is a lifestyle of survival of the fittest and where meritocracy reigns supreme. It will be very difficult for the old warlords to fathom all this but, like it or not, their days are numbered. This may be six years too late as far as Shahrir is concerned but they do say better late than never.
Yes, Malaysia is about to see changes. The Shahidans, Anuars, Tajols, Adnans, Rahims, Musas, Tengku Adnans, and many of those remnants of the Mahathir era will go the way of the Megat Junids, Sanusis and Khalils who were sent out to pasture not that long ago. Even the likes of Ku Li and Rais and those viewed as still having some political clout face the prospect of being sent into retirement. Soon, Malaysia will be led by those who wish to claim their inheritance by force and not wait for it to be handed to them when the old folks get tired of public life or, by divine intervention, die off.
These people know what life is all about. They know what they want from life. And they are not scared of grabbing what they want without waiting for it to be served like the old ways of the old days. They live well, they eat well, they dress well, and they know the power of money and what money can do for you. They also know that only through the attainment of power can you realise your dreams.
These yuppies have plans for this country. They know what needs to be done. And they know that mere cosmetic changes are not enough; you need to push for a paradigm shift. And, in this paradigm shift, old ways need to be discarded. And, in this paradigm shift, the Old Guard too needs to be discarded. Invariably, from the ashes of these Old Guards will rise the Young Turks, those from the fourth floor, the yuppies who walk through the corridors of power and who are extremely in a hurry and have no patience to tolerate the old ways or kowtow to those tired old men and women who jealously guard their turf in a feeble attempt to prop up the crumbling empires of the Little Napoleons and Umno Warlords who no longer have a place in a globalised, borderless world.
Norza Zakaria, now the Political Secretary to the Finance Minister II and tipped to be the future Finance Minister. His critics call him the next Daim Zainuddin.
These Old Guards used to kiss Mahathir's hand but now refuse to take his calls. However, in spite of all this hand-kissing, will they still be around come next election?
The fates and fortunes of many an Umno Warlord and Little Napoleon rests in the hands of Khairy Jamaluddin, and they are all making a beeline to his door to ensure that they will be retained as candidates in the 12th General Elections due any time now.
The billion dollar question is: will Najib be contesting the next election and, even if he is, will he be reappointed the Deputy Prime Minister? Najib's continued presence is an obstacle to the career progression of the fourth floor yuppies.
Comments
(0)
Write comment